Centra Foods receives questions from hundreds of manufacturers each year about the best ways to save money on olive oil. There are many components that can affect the total price of your olive oil, including grades, packaging, freight, distance of the FOB point and experience of the supplier.
Click here to go to Part 1 of the series: Choosing the Right Olive Oil Grade
Part Two of the Series: Choosing the Packaging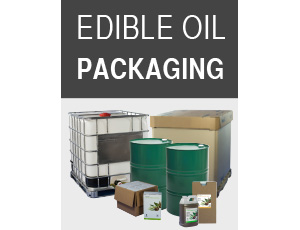 Once you've settled upon a grade of oil, the next step is to look at the packaging. It is one of the most important, and easiest components to consider if you want to save money.
Let's first review the options available.
35 Lb. Containers: 4.6 Gallon Boxes of Olive Oil. This is the smallest size recommended for manufacturing, and is useful for production lines that use manual pouring. Minimum order of 60 containers.
55 Gallon Drums: Steel drums weight about 500 lbs each (including the oil weight), and work well in a warehouse setting with a pallet jack or forklift. The oil is easy to get out of the drums, usually pumped out of a hole at the top using a drum pump.
Totes: Available in 264, 275 or 330 Gallon sizes, in either the Bag-in-Box or Standard versions (hard plastic with an aluminum frame). Typically, oil can be either pumped out of the top or poured out of a spigot located at the bottom of the tote.
Storage Tanks: Large holding tanks set up at your facility that contain 50,000-100,000+ lbs of oil. These tanks tie into your production lines and save you from any packaging costs. They require a 4-6 week setup time, and initial setup costs are outweighed by savings within 6-18 months. This option is recommended for annual volumes of 200,000 lbs or more per grade.

You're probably familiar with at least one of the options above. Perhaps a larger size that you hadn't considered will actually work well for you. To determine that, you'll need to work with your operations and warehouse manager to answer the following questions:
Storage Capabilities
Do you have space limitations?
What is the maximum number of pallets that you could hold at one time?
Do you have space to install an oil storage tank inside or out?
What do you do with the packaging when you're done?
Do you have limited or expensive disposal space?
Efficient Production Line
Does your production team have to manually pick up the olive oil and pour it?
Could pumping out of drums or totes be easier than manual pouring?
Would a storage tank that can tie directly into your production line be most efficient?
Once you've answered these questions, Centra Foods can provide advice on which packaging options are going to work best now and which option would be worthwhile to transition to in the future.
Topics: Food Manufacturing, Packaging