Are you looking for an easy way to fill small bottles or pour oil from a 35 Lb. Container? Most small businesses and at-home users find that ordering 35 Lb. Containers are the cheapest and easiest way to "go bulk" and it's a size that works well for them. But, many people are still looking for a simpler system to dispense the oil into smaller, easier-to-handle packaging for kitchen use.
If you find yourself looking for an easy dispensing solution (that is not a giant piece of manufacturing equipment) we have the best solution for you: a spigot that easily attaches to the 35 Lb. Containers for dispensing.
Let's dive in to more about our spigot kit that can help you fill those smaller containers and not give you a headache. Please note: Spigot dispensers are only available along with the purchase of bulk oil from Centra Foods.
How To Use A 35 Lb. Container spigot
Your spigot dispenser will come as a "kit" in two parts when you receive it. Today, I'll explain exactly what it is and just how simple it is to use.
First, your 35 Lb. Containers come with a flat lid. That will be replaced with this new lid, with a spigot attached within it. The spigot/lid "kits" are meant to be re-used over and over again on each different 35 Lb. Container.
To prepare your spigot: When you receive the spigot kit, it will come in a small bag with two parts. You will need to take the spigot out and screw it onto the lid that will eventually attach to your 35 lb. container. Please be aware that on that lid there is a "knock out" section; this is essentially a plastic film to cover the hole that the spigot will screw into. This can either be cut out using a small knife or knocked out using a tool to punch through it. Once you have removed that "knock out" film of circle, screw the spigot into the new hole you've created in the lid.
From there you will then attach the whole spigot to your 35 lb. container by screwing it on in place of the case's normal lid.
Pros To A Spigot Kit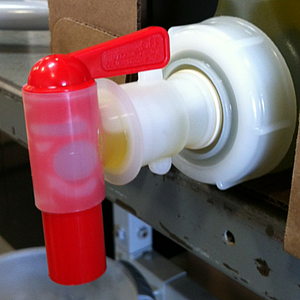 There are different companies that may need easy ways to fill smaller containers that isn't costly.
It maybe most price effective for you to purchase a pallet of 35 lb. containers to fill your small packaging and be able to do it yourself vs. having to pay for the finished small bottles. With this dispensing system, you can save some money by having everything in-house and filling it on your own. If you are in a retail setting, you may also offer in-store bottling to customers and need to bring the 35 lb. containers out to your store front to do fusti refills.
The final pro to this system is that it doesn't require a lot of facility space, and its extremely easy to use and clean up.
If you find this information helpful and you want to see exactly what the spigot kit looks like (and how to put it together) you can watch the video below:
As a reminder, spigot dispensers for the 35 Lb. Container are only available along with the purchase of bulk pallets of oil from Centra Foods.
Topics: Packaging