Centra Foods receives questions from hundreds of manufacturers each year on the best ways to select specialty oil ingredients that fit their many different corporate goals -- one being cost savings, particularly for manufacturers using natural oils.
There are many components that can affect the total price of your oil ingredients, including the different quality kinds of oil available, the type of bulk packaging you opt for, the volume of your orders, the distance of the shipping point and the experience or business model of your bulk supplier(s).
In this part two of the series, we're going to weigh in about how the different bulk packaging choices can affect your final edible oil pricing.

Part Two Of The Series: Choosing Bulk Oil Packaging
Ask Your Warehouse/Production Team The Right Questions
Start the evaluation by reviewing what packaging you're buying bulk oils in now (or any other ingredients), and what your capabilities are for moving to larger sizes. This is an important part of the review process, one that should be one of the first steps for evaluating packaging once you know your options available there.
Ask yourself and your team questions like:
Current Situation
What packaging are you buying bulk oil in now?
Are you buying any other ingredients in (or do you have any experience using) totes or drums?
Warehouse Tools
Do you have a fork lift?
Do you have a pallet jack?
Storage Capabilities
Do you have space limitations?
What is the maximum number of pallets that you could hold at one time?
What do you plan do with the packaging when you're done?
Do you have limited or expensive disposal space?
Efficient Production Line
Does your production team have to manually pick up the olive oil and pour it?
Could pumping out of drums or totes be easier than manual pouring?
Do you have automated production lines that could tie into these larger packaging sizes?
Understand Your Packaging Options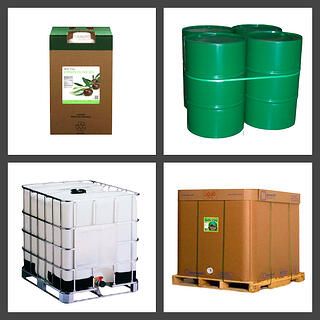 At the same time as you are asking your team the right questions, it's helpful to review all of the potential packaging options available, just to know what else might be available to you. Let's go through them together.
35 Lb. Containers: 4.6 Gallon Boxes of oil, also known as a Jug in a Box or JIB. This is the smallest size recommended for food manufacturing, and is useful for production lines that use manual pouring. Minimum order of 60 containers.
When you're done with this packaging, it can be disposed of or recycled. Because they are individual containers, they're very easy to handle and move, as well as dispose of on a daily basis in smaller amounts (so they won't take up all of your recycling bin).
55 Gallon Drums: Steel drums weight about 500 lbs each (including the oil weight and the drum itself), and work well in a warehouse setting with a pallet jack or forklift. The oil is easy to get out of the drums, usually pumped out of a hole at the top using a drum pump.
When you're done with this packaging, it is typically disposed or picked up by a local recycling company. If you use a good volume or can collect them for a while, we would recommend this company to pick up a full truckload of empty drums. To learn more about what they do, we'd recommend reading this article: What To Do With Your Used IBC Totes
Totes: The standard tote size is 275 Gallons, and can be either a cardboard bag-in-a-box material or an IBC tote which is a hard plastic tote with an aluminum frame. Typically, oil can be either pumped out of the top or poured out of a spigot located at the bottom of the tote. We also recommend using a hose dispensing system unless your production line ties directly into your tote.
The cardboard totes can be broken down and recycled after use. The IBC Caged Totes can typically be recycled in some fashion: either picked up by a local recycling company (who may pay you for them) or a company like the above (IBC Tote Recycling) that will pick up used totes at no cost.
Start Your Packaging Evaluation
You're probably familiar with at least one of the options above. Perhaps a larger size that you hadn't considered will actually work well for you. To determine that, you'll need to work with your operations and warehouse manager to answer the questions listed and do a full evaluation.
Topics: Packaging