Trying any new packaging size in an industrial food manufacturing setting can be daunting. Especially if it's a larger size that your production team hasn't had experience with in the past.
There's a learning curve as your team begins to work hands on with this new packaging. How they get the oil out and onto your manufacturing line is going to be a new process that they'll have to relearn.
Industrial bulk oil totes, in particular, can be challenging to transition to if your warehouse has never used that large of a packaging size before.
We'd like to recommend our favorite dispensing system; trust us-- it's going to make that transition to totes a lot more straightforward.
The Biggest Challenge When Switching To Totes
The most common hesitation most people have about making the switch totes has to do with how they will get the oil out. Potentially, this includes you too. In other words, how you (and your production team) will interact with those totes on a daily basis is a major concern.
The reason that this is the biggest concern is because it isn't straightforward how the totes work, and how the oil will travel from the tote box to your production line. Most manufacturers will provide a valve to dispense from, but after that... what you hook up to that valve is up to you.
Some experienced production managers will us hose or "complete dispensing system" that ties the tote into your production line. Either way, this system is something your warehouse is completely responsibile for selecting and putting together. You can buy all of the parts at an industrial supply store to create your own.
But, for those production managers that are new to totes, it can be hard to visualize how the totes will work in your facility without prior experience.
The key to making the switch to totes is to have an easy dispensing system.

We didn't like the options available out there, so we built one for you (that's what happens when you have a Predient who loves to build new things). The feedback was unanimous though-- we all love how it works.
Why It's So Important To Move Past The Challenges And Make The Switch
There's no doubt-- totes are one of the best and easiest ways for manufacturers to save money on the ingredients that they're already getting. The average savings is $0.02 / lb.
Check out this case study on how much it saved one customer.
The Tote Dispenser That We Love
The way to make the switch to totes as simple as possible is to understand exactly how you're going to use them and how they will tie in with your production line.
We recommend attaching this complete tote dispensing system. This assembly is composed of a valve, a hose and a fitting that connects the attachment to the tote itself.
You can see the tote dispenser here: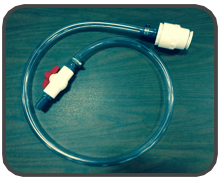 The great thing about this valve is that it doesn't require you to purchase separate parts and put them together to create something unique. There's no need for you to reinvent the wheel! This valve comes already assembled, and it is easy to install.
Let's go piece by piece through this dispensing system to see how it works.
The Connecting Fitting
This is the part that connects the dispensing attachment to the tote. This is typically something that screws into the lower drain fitting of the tote.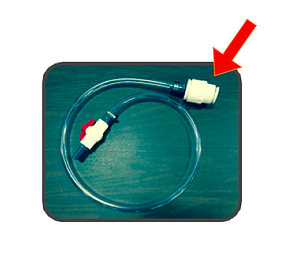 Note: If you've ever worked with tote valves before, you'll notice that this is usually where the valve is screwed in. We've moved the valve further down, because it works a lot easier for dispensing and it helps avoid messes that occur with an open hose.
The Hose
The hose is the line that connects the valve to the tote. It can be as long as you need it to be. If you pour from your tote into a bucket, it can be 4-6 feet long. If you want to walk this hose directly to your mixing containers on your production line and dispense directly into them, you can make your tote hose longer.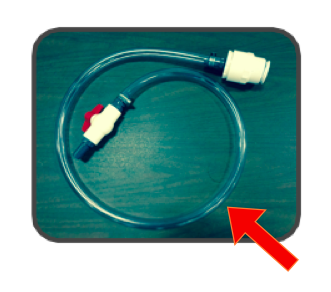 The Valve
Think of this valve like the sprayer attachment on a garden hose. It is the piece that starts or stops the oil from coming out. Because the valve is located on the end of this dispenser, you can hold the valve and point it to where you'd like the oil to come out, or slow the flow of oil.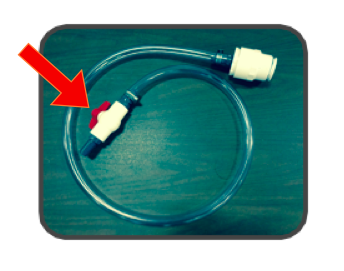 Some General Advice For Using These Dispensers
#1: These dispensing system only work with the force of gravity. They are known as a gravity feed system because of this (as opposed to an electric pump that sucks the oil out). This means that the pallet must be elevated off the ground, even if only a few inches.
This system is especially useful for those that store their pallet on a pallet rack.
#2: At the end of each day, you should take some steps to keep the valve clean and away from harm. You can hang it from a small wire door hook (that you can purchase at any hardware store) hung at the top edge of the tote. You can also put a small bag around the valve to keep any dust and dirt particles out overnight.
Download The Step-By-Step Set Up Guide
Curious to see this how this valve attaches to tote? Want to give production some more information on how it works? Download the Tote Dispensing Attachment Instructions for the step-by-step how to.
Topics: Packaging