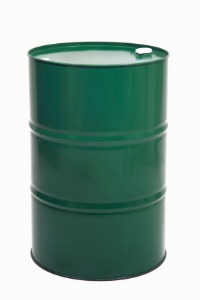 Soap makers that run a small business or work at home want to save money on olive oil-- just like every business owner does. Olive oil is an expensive ingredient, and can significantly affect the cost of your finished product.
Why You Shouldn't Buy Just 1 Olive Oil Drum From a Large Supplier
Shipping Costs Too Much
Drums ship on an 18 wheeler that delivers to your location. The cost to ship one drum and 4 drums is often the same (meaning, you pay 3x too much when you ship just one drum at a time). On top of that, shipping to your home costs even more than delivering to a warehouse-- you will be charged extra for a lift gate, residential delivery and an appointment so that you can plan to be home when the truck comes. This often puts shipping in the $200-$350 range for just one drum. The amount that you would save on the oil by ordering a bigger bulk size is easily outweighed by these shipping costs.
Storage is Challenging in a Home or Small Production Kitchen
Drums weight about 500 pounds each, and normally you need a pallet jack or a fork lift to move them around. Have you thought about how you're going to get this drum up the stairs into your house? Do you have a spot that you know you want to store it in? Keep in mind that the truck will drop off the drum in your driveway. You'll pay a pretty penny if you want the driver to bring it inside.
Here's a Better Way to Save
Buy Online in 35 Lb. Containers: Most people that contact us about soap making oils are not using enough volume to warrant buying the 55 gallon drums. If you're using 30-40 gallons /month of olive oil, then it is worth switching to bulk. Before that point, consider buying online from our wholesale store.
Buy All Ingredients from a Soap Making Supplier: Companies like Shay and Company in Oregon sell all of the different soap making ingredients that you will need. They can ship you a variety of oils via UPS. Or they can load up a pallet if you do want to buy in bulk, so that you're getting more out of your shipping.
Buy From a Local Distributor: Want to pick up your oil? Find a local distributor for your olive oil. This doesn't have to just be in the soap making realm-- contact a food service or bakery supplier who carries what you need.
Topics: Packaging, Small Businesses Advice