How We Work
We offer packaging sizes from 1 gallon to 6,000 gallons, including both food service options like 4x1 or 6x1 gallon cases and 35 lb. containers, and bulk options like drums, totes and tanker trucks. Our customers include natural and healthy food manufacturers, restaurant chains and food service distributors, both in the US and around the world.
We partner with farms and edible oil refineries around the globe to provide a secure and stable supply chain of non-gmo, organic and other healthy oils at competitive prices. We always work as close to the farming source as possible, and can provide supply contracts to guarantee a steady price and consistent supply chain.
We bring bulk oils into our manufacturing plant in Kent, Washington, located 30 minutes from downtown Seattle. In our USDA Organic and Non-GMO Project Verified facility, we blend, package and brand all of our own healthy oils.
We are also a leading co-packer and private labeler in the Pacific Northwest, offering our services to other oil brands, producers and brokers.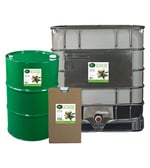 We've recently launched an online storefront where you can buy all of your bulk oils in totes, drums or pallets of 35 lb. containers on our website. There you can see live oil pricing online, with custom shipping costs to your facility. Orders can be paid for with a credit card, and ship within 1-3 business days. Explore our store now!
Want to learn more about why we created this new online store? Here's more about why -- it's all because of you, our prized customers.