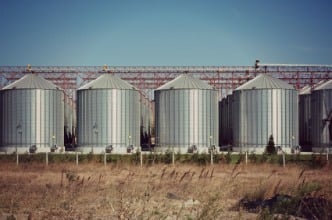 Most manufacturers buy their bulk olive oil in totes or drums that deliver a few pallets at a time. For large manufacturers that use a lot of volume, it is worthwhile to consider a larger bulk size that can save you even more money.
You can significantly cut down on the cost of your olive oil by receiving it in a flexitank or tanker. This means that a truck would deliver to your facility with about 6,000 gallons of olive oil. This oil is pumped into a "silo" or "storage tank", located at your facility. The question is, how do you know when it's right to make the switch from totes to flexitanks/tankers?
How do you know when it's right to make the switch from totes to flexitanks/tankers?
The answer is in the numbers: when is it actually going to save you money, and how much will you save? This oil storage system at your facility costs about $30,000 to set up, but oil savings are usually about $0.10-0.20 /lb depending on the commodity market (as compared to totes). Because of the initial setup cost, you have to be using enough consistent volume to make setting up this system worth your investment.
Our recommendation
We recommend considering installing a storage system and switching to tanker/flexitank delivery when your annual olive oil usage is about 200,000 lbs (about 25,000 gallons) for each olive oil grade that you use. Based on these volumes, your new system would pay for itself within a year. From there on out, your savings would be substantial.
How to know if you'll save money
Do some quick math based on your own facility to see if the switch is worthwhile:
Find your annual volumes of olive oil in pounds. (Example: 400,000 lbs)
Multiply your annual usage in lbs by the potential savings of $0.10 or $0.15. (Example: 400,000 lbs x $0.15/lb = potential savings of $60,000)
The result will be how much you could save on an ongoing, yearly basis. (Example: $60,000 saved per year)
Subtract $30,000 and you will see how much you will save (or spend) in year-one, once you take the set up fees into account. (Example: $60,000-30,000 = First year total savings of $30,000 and $60,000 for every year after that)
Other alternatives to avoid paying for storage tanks
Centra Foods has also developed a low-cost alternative system where a tanker will show up at your facility and pump the oil into totes which can then be easily stored in your existing facility. In this system, you can get the tanker price and avoid the $30,000 setup fee. Contact us to learn more.
Topics: Food Manufacturing, Packaging, Prices & Saving Money