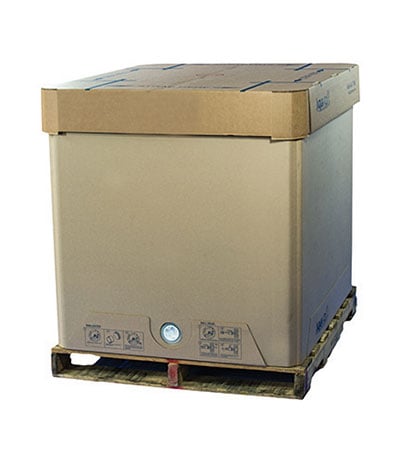 If you've ever debated about switching from small cubes (or 35 Lb. Containers) to bulk totes — these are big big ones, 275-330 gallons — this article is for you. Today we will weigh the pros and cons to decide if they will work for your plant.
I've personally written a lot about how to use the bulk totes over the last couple of years. You'll learn bits of information in each one. But I wanted to create an ultimate guide to making this decision — that way, you can understand how everything goes together, what you'll need in your facility and how you can make the final call.

Today, we will cover:
Why You'd Want To Use Totes Instead Of Other Packaging
Tote Details, Specs & Information
How To Dispense Out Of The Totes
Recommended Dispensers and Valves
Your Facility Requirements

You're going to see photos, step-by-step slide shows and videos. All of this information will help you weigh if this packaging size is right for you.
Why You'd Want To Use Totes Instead Of Other Packaging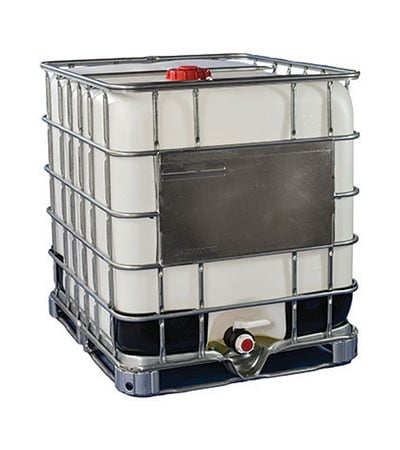 Totes are an easy-to-use option for food manufacturers. This packaging size is commonly available and doesn't take up any more space than a pallet of four 55 gallons drums.
They're an ideal "goldilocks" size for most manufacturers: not too big, not too small… just right! They're large enough to be used in a highly efficient, large-scale manufacturing plant, yet still manageable enough for a small- to medium-sized company.
The main reason that manufacturers choose totes over other sizes (in addition to the ease of use) is the lower cost that they have. Usually this packaging comes at a cheaper overall cost because it's a larger size — the less packaging that's involved, the more money you can save.
Normally, I see a savings of $0.02 - $0.05 /Lb.
Tote Details, Specs & Information
Totes come in lots of different sizes and materials. The most common sizes are:
264 Gallon (1000 Liter, common overseas)
275 Gallon (US standard)
320 Gallon
330 Gallon

The most common materials are:
Bag in a Box (cardboard outer box with a food-grade bag inside)
IBC (a hard plastic bx with an aluminum cage around the outside and a built-in pallet)
Collapsible Tote (a caged polypropylene outer bag with an inner lining)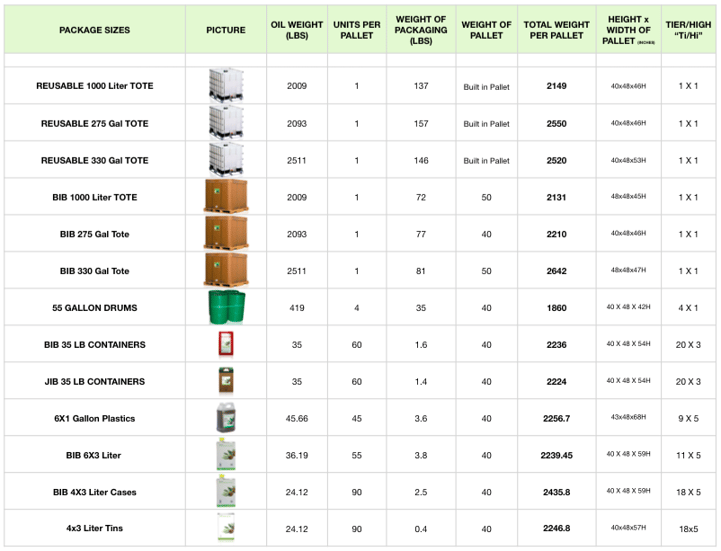 The chart above shows the net and gross weights of each type of tote (download it here). It also shows the footprint and dimensions of the tote. You can use this to decide which size works for your facility and get an estimate on freight.
In particular, as yourself these questions:
Is this tote going to be stored on racking?
Are there dimension or height restrictions based on that racking?
Does your team prefer a specific type of tote material?

How To Dispense Out Of The Totes
All totes typically come with a valve at the bottom of the tote. This valve is used to dispense the oil.
Any number of different types of dispensers or hoses can be hooked to this valve. There are automated pumps that suck the oil out using pressure. There are also "gravity fed" hoses that allow the oil to pour out naturally when the spout is opened.
Without looking specifically at the dispensers yet, I'd like to look closer at the valves first. The valves can vary depending on the material of the tote.
Above is a short slideshare of the Bag in a Box tote valve and how it looks in detail.
This is a similar slideshare for the IBC plastic tote. You can see how this valve works differently. In addition, there is a bung hole at the top of the tote (similar to the hole at the top of a drum) that allows you to insert a drum pump down into it and pump out of the top.
Lastly, here is a step by step instruction sheet with photos for how to dispense out of the bag in a box totes.
Recommended Dispensers and Valves
In our experience, finding a dispenser that works easily with the totes has been a challenge (unless you've got an experienced production team). We started to build these dispensers for customers when we saw how much of a challenge it was to put together the best parts for dispensing.
The tote dispenser that we sell is a hose/valve set that combines the valve for the tote along with a dispensing hose. This hose is available in different widths, which controls the speed of the oil flow. It's also available in different lengths, allowing you to pump directly from the tote into your production area (like your mixing vat or measuring bowl).
The one thing to remember is that these dispensers are gravity fed hoses, which means that the oil needs to be positioned above the vat that you are dispensing into to force the oil to come out using pressure. For example, if you had a tote on the floor and you were dispensing into a vat elevated 15 feet into the air, you can picture what would happen: nothing would come out. Therefore, the top line of oil in the tote needs to be raised above where the hose is dispensing into.
The best way to do this is to elevate the tote as it is used, using a pallet jack or a fork lift. Other people dispense from the tote when it is elevated on racking, or they even stack the tote that they're using on top of an old empty one.
If you'd like to learn more about this dispensing valve, you can read more about it here. I'd also recommend seeing it in action in this video below.
Your Facility Requirements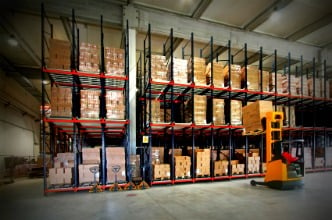 An important point to remember when you're considering these totes is that your facility does need to be set up for them. The totes weigh upwards of 2500 lbs, so you'll need the proper equipment to move it around. Either a fork lift or a pallet jack will work.
You'll also need to have enough space to store them. They're most easily used in a larger warehouse setting.
If you're a small growing business that's working out of a house or commercial kitchen, think about the challenges that you're going to encounter. You may need to go up stairs or move the totein and out of the kitchen that you're renting for a few hours every day. If you find yourself in this situation, I'd highly recommend going with a pallet of the 35 Lb. Containers. You can save money by buying them in bulk, but the packaging is still very manageable for your space.
Topics: Packaging