Professional development is about always learning and growing in your role.
Education allows you to improve, and can help achieve your goals the job that you're already in. It also sets you up to have a better chance at promotions in the future.
Education comes in many forms though. Once in a steady career, classroom education becomes less of a norm, as self-directed learning takes its place. While self-directed learning can mean many things, like webinars, seminars, industry conferences, etc., reading industry books is one of my favorite tools.
Books are great way to stay on top of your self-training all year round and direct your own growth.
The 7 titles below are top rated procurement and purchasing books available on Amazon, written for professionals just like yourself. Explore and enjoy!
by Michael H. Hugos
4.7 out of 5 stars (22 reviews)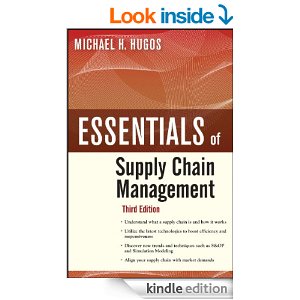 The latest thinking, strategies and technologies to stay current in supply chain management
Presenting the core concepts and techniques of supply chain management in a clear, concise and easily readable style, the Third Edition of Essentials of Supply Chain Management outlines the most crucial tenets and concepts of supply chain management.
Understand what supply chains are and how they work
Explore the latest technology and practices available for supply chain management
Offers new cases and executive interviews throughout the book
Written by author of supply chain simulation application SCM Globe
High performance supply chains that deliver competitive advantage are key to any strategy for staying ahead in today's complex, real-time world.
The Third Edition provides tools, guidance, and examples to help you create such supply chains in your organization.

by Eliyahu M. Goldratt
4.5 out of 5 stars (252 reviews)
Over 2 million copies sold! Used by thousands of companies and hundreds of business schools! Required reading for anyone interested in the Theory of Constraints. This book, which introduces the Theory of Constraints, is changing how America does business.
The Goal is a gripping, fast-paced business novel about overcoming the barriers to making money. You will learn the fundamentals of identifying and solving the problems created by constraints. From the moment you finish the book you will be able to start successfully addressing chronic productivity and quality problems.
by David Burt, Sheila Petcavage and Richard Pinkerton
4.3 out of 5 stars (6 reviews)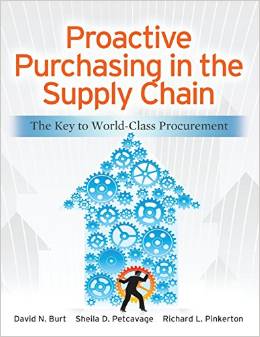 Transform purchasing operations from reactive to proactive supply management
Written for purchasing managers, Proactive Purchasing in the Supply Chain reveals how to use the latest and best procurement practices to help your organization maximize the effectiveness and efficiency of its supply chain. The ability of purchasing to dramatically increase return on investment, reduce costs, improve quality, and shorten time to market is highlighted throughout this practical guide.
Essential topics such as legal issues, green purchasing, negotiation, ethics, price-cost analysis, production-inventory control, purchasing risk management, sourcing, and demand-logistics management are addressed. Real-world case studies in each chapter demonstrate the strategies presented in the book. A detailed planning model for implementing these world-class procurement methods is also contained in this definitive resource.
The authors combine extensive industry, educational, research, and consulting experience to cover topics such as:
The latest "best-in-class" purchasing methods, tools, procedures, and systems
Price-cost analyses and how to fight price increases
How to organize the purchasing department to achieve maximum value added in the supply chain
Green purchasing
Purchasing risk management programs and procedures
How to separate strategic from tactical buying
Step-by-step checklists for major purchasing functions
How to overcome obstacles
Forecasting methods for demand management
How to transform the purchasing department from a cost center to a value-added operation
Social responsibility and ethical issues
Planning steps and basic management skills
By Tom DePaoli
4.3 out of 5 stars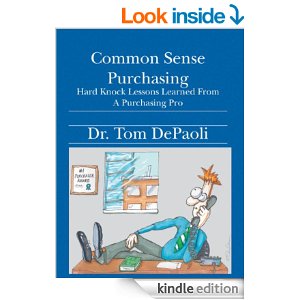 Common Sense Purchasing is a no holds barred practical guide to purchasing and negotiations success. If you don't like consultants, buzzwords and theory this book is for you.
Straight forward and to the point you will not be able to put it down until you have finished the purchasing journey.
By Meir Liraz
4 out of 5 stars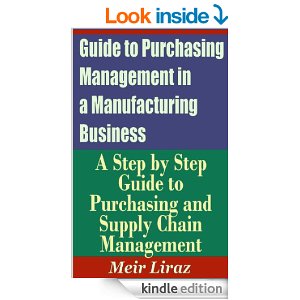 Jim Black, the owner of a small foundry, complained bitterly one day about the amount of defective material he was receiving. "The raw material is guaranteed to meet quality specifications so as to contain less than.005% impurities. For the past three weeks, though, our castings have been turning out rougher than they should. I'm sure that last shipment of raw material wasn't as pure as it should have been. What do I do now?"
In another plant, Joe White was wondering what to do about a new supplier of electronic components he had just purchased from. "I got a good price on the first shipment, and so signed an order for two more shipments. The bill I got for this last shipment is almost $600 over that of the first. I told the supplier to take it back or reduce the bill, and he said that his quotation gave him the right to increase prices as inflation and labor expenses rose for him. I know I could get the shipment for less, elsewhere."
Both these situations highlight the need to follow good purchasing procedures to reduce the incidence of such problems.
In this guide you will review the activities which lead to effective purchasing. Specifically, you will explore the procurement cycle which concerns decisions on:
how to determine the firm's purchasing needs
finding a supplier who will best satisfy purchasing needs
negotiating and making the purchase
communicating the purchase decision to the supplier and to relevant personnel within your firm,
and a follow-up procedure for evaluating your purchasing decisions.
According to Dun & Bradstreet, 90% of all business failures analyzed can be traced to poor management. This is backed up by my own experience. In my 31 years as a business coach and consultant to businesses, I've seen practically dozens of business owners fail and go under -- not because they weren't talented or smart enough -- but because they were trying to re-invent the wheel rather than rely on proven, tested methods that work. And that is where this book can help, it will teach you how to avoid the common traps and mistakes and do everything right the first time.
by F. Robert Jacobs, William Berry, D. Clay Whybark, Thomas Vollmann
4 out of 5 stars (16 reviews)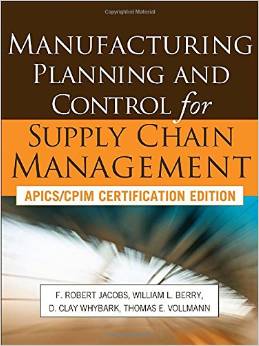 The definitive guide to manufacturing planning and control--FULLY REVISED AND UPDATED FOR THE CPIM EXAM
Improve supply chain effectiveness, productivity, customer satisfaction, and profitability with help from this authoritative resource. Completely up-to-date, Manufacturing Planning and Control for Supply Chain Management: APICS/CPIM Certification Edition offers comprehensive preparation for the challenging CPIM exam with hundreds of practice exam questions and detailed case studies. In-depth coverage of manufacturing planning and control (MPC) best practices and the latest research gives you the competitive advantage in today's global manufacturing environment, and helps you to obtain the coveted CPIM designation.
Covers the state of the art in manufacturing, including:
Manufacturing planning and control
Enterprise resource planning
Demand management
Forecasting
Sales and operations planning
Master production scheduling
Material requirements planning
Capacity planning and management
Production activity control
Advanced scheduling
Just-in-time
Distribution requirements planning
Management of supply chain logistics
Order point inventory control methods
5 out of 5 stars (2 reviews)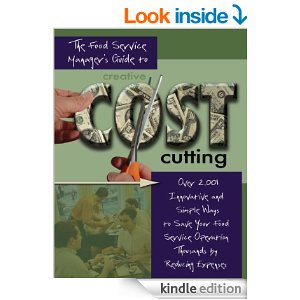 This is one of the very few books written for existing operators in both the commercial and non-commercial sectors. You will find over 2,001 practical, insider techniques and tips that have been gleaned from successful operators from around the world and tested in real-life food service businesses. You can put this information in place today to reduce expenses and expand profits.
Easy to read and understand, this step-by-step guide and will take the mystery out of how to reduce costs in four critical areas: food, beverage, operations and labor.
What's your recommendation for favorite procurement leadership book? Comment below to add to the list (we'll even update this article to include your best recommendations!).
Topics: Purchasing & Procurement