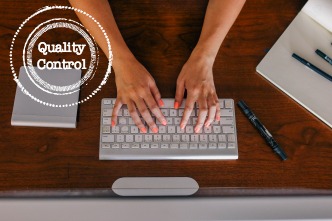 If you're a purchaser for a manufacturing company, it's likely that you've got a long list from the QA department asking for documents on each of the ingredients that you're sourcing.
Compiling and managing this can be a bit overwhelming. There's lots of boxes to check, and your supplier needs to be prepared to check each one for you.
If you're a new manufacturing business or in a purchasing role for the first time, it can be even more overwhelming! That's why we want to take the guess work out of what to expect.
Here's a list of the most common documents that we get requests for, what they are and why you might want them. This list is, in fact, for all of the oil ingredients that you may buy-- not just bulk olive oil. You can pick and choose what you want to receive from there.
The Most Popular Quality Documents

1. Spec Sheet
This information is a general standard of everything you should know about the origin. The standard chemical characteristics of limits, the type of oil, how it's made, what it's best used for, what kind of packaging it comes in and more. It's like a general introduction to the oil, in a technical format.
2. Certificate of Analysis
This document provides specific information about the actual oil that you've ordered. You will receive it with your order (and Centra Foods also sends you an electronic copy once your order ships). It provides actual chemical test results and the lot code number.
3. Kosher Certificate
Many products are now Kosher certified, which means that all of the ingredients need to be kosher certified. There are a number of different agencies that offer this, and they all generally recognize each others certifications. That means that the Kosher certifications of your suppliers can come from any qualified organization.
There's also a "over and above" Kosher for Passover certification, for foods that are specially made to be eaten during the holiday.
4. Organic Certificate
An organic certification verifies that the oil that you are receiving is grown, produced, made and stored in a way that meets all organic guidelines.
These steps (growing, transporting, storing) are done by different companies. You don't need to worry about that though-- if your supplier is organic certified, it means that they've had to produce and track the entire trail backwards towards the tree, to confirm that every lot of organic oil that enters their facility was grown and produced organically, every step of the way. If you get the certificate from your supplier, you're covered for every step along the way!
When you're getting your organic certification, it's important to get it from the company that actually packed the oil. For example, if you're purchasing from a broker or a distributor, they didn't pack the oil. You'll want to get an organic certification from their manufacturer, the company that they bought it from. On the flip side, if you're buying packed good from a manufacturer and they can't provide their own organic certification from their facility (aka, they pass along their supplier's certificate from overseas) that won't probably satisfy your own organic certifier.
5. Nutrition Statement
This document is pretty self explanitory. It is the document that states the nutrition information for the oil, which you will use to build your own products nutrition information. Sometimes you'll find this info on the spec sheet instead, which is also okay.
Other Quality Documents You May Want For Your Bulk Oils
Here's the other most common quality documents that you might want to receive. Many of your peers are already asking for these documents, so your supplier should easily be able to supply them.
6. Non-Allergens Statement
7. Flow Diagram
8. Shelf Life Standards / Storage Recommendations
9. MSDS
10. Lot Code Explanation
11. Letter of Guarantee
12. Halal Statement
13. HACCP Document
14. GMP Document (Good Manufacturing Practices)
15. Gluten Free Statement
16. Non-GMO Statement
17. Prop 65 Statement (for California)
18. Animal Testing Policy
19. Change Notification Statement
20. Cold Weather Instructions
21. FDA Food Facility Registration
22. GRAS Statement
23. Irradiation Statement
24. Emergency Contact List
25. Recall History
26. Pallet Layouts and Weights
27. Sewage Sludge Statement
28. Trace and Recall Procedure
29. Trans Fat Statement
30. Supplier Information Sheet
The Best Way To Receive These Documents From Your Supplier
It's a simple thing, but actually getting these documents can sometimes be a challenge. Getting all the files at once can be challenging; because they're so large, they don't always fit into an email.
Instead of having your supplier send 5 separate emails, here's two methods we recommend to get these documents. It helps if you're already set up with one of these companies, and you can tell your supplier how you'd like to receive your documentation.
DropBox
A free file sharing system, which allows your supplier to put all of their documents into a file and share it specifically with you. You'll get one email with a link to the file.
Google Docs
Another simple way to share documents, which works especially well if you use gmail for your email. Like dropbox, they put a number of documents onto their cloud and share the private link with you.
A Zip File
A compressed file from their computer, which they can email to you. A zip file filled with a number of compressed documents will often fit in an email, as opposed to if you tried to attach each of those documents individually to that email.
Want help with the rest of your purchasing process? We'd recommend reading the 11 Steps To Purchasing Bulk Oil Ingredients For Manufacturing. You can also download a checklist of all the steps you'll want to complete before you make your first purchase.
Topics: Quality Control