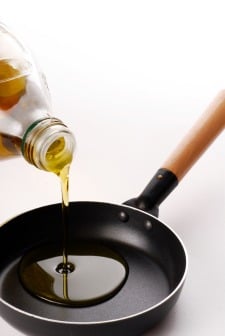 The other day, I sauteed vegetables on my stovetop. I used Extra Virgin Olive Oil in the pan, and I was in a hurry so I turned the heat up to get the food cooking faster. Next thing I knew, I got sidetracked and smoke was billowing from the pan.
How many of you have experienced this before?
This scenario can happen with any oil that you're cooking with, but some are more prone to it than others.
Why is that? It has to do with the smoke point of the oil.
Every type of oil has a miximum heat that it can withstand. After it heats beyond that point, the oil begins to breakdown and smoke begins to waft up. The hotter it gets, the more it smokes.
This can also happen in a manufacturing setting-- not just your home kitchen. If this happens in production, the result is wasted ingredients, a damaged product, and a number of other physical hazards.
The best way to avoid this situation is to know the smoke point of the oil you're using, and not heat it above that temperature. Otherwise, you could damage the flavor of your product and get yourself into quite a pickle in the warehouse.
The Smoke Point Of Various Cooking Oils
It's good to know the smoke point of a variety of oils when you're in the research stage, deciding which oil you'd like to use. For example, if you will be using the oil to fry in high temperatures, you're going to want to choose something that has a higher smoke point.
Here's one of our favorite infographics on the smoke points of a variety of common cooking oils.
A great infographic from Chasing Delicious http://t.co/JfIUFzkrXb pic.twitter.com/CgVWUNRA4f

— Centra Foods Oil (@CentraFoods) July 22, 2014
Who Decides Smoke Points?
There's a number of different people who can tell you that an oil has a particular smoke point. The manufacturering mill, a lab technition, an experimenting chef.
There's also a number of factors in the oil that can vary, causing that temperature to be off slighly. This is more common in natural, unrefined oils like Extra Virgin Olive Oil because it's not the same across the board with every lot of Extra Virgin you'll run in to. Because of that, the exact smoke points of some of the oils are explained differently by different experts.
It's best to use all of their debated information as a range to keep in mind. This keeps you on the safe side.
The Smoke Point Reference Chart
Here's a common guide that will give you a basic smoke reference point for a number of different cooking oils. This doesn't reflect specific manufacturers findings, so you may find different information on our spec sheets. It is, however, a good guide in your initial research process.
| Fat | Quality | Smoke Point |
| --- | --- | --- |
| Flax seed oil | Unrefined | 225°F |
| Safflower oil | Unrefined | 225°F |
| Sunflower oil | Unrefined | 225°F |
| Butter | | 250–300°F |
| Peanut oil | Unrefined | 320°F |
| Safflower oil | Semirefined | 320°F |
| Soybean oil | Unrefined | 320°F |
| Sunflower oil, high oleic | Unrefined | 320°F |
| Walnut oil | Unrefined | 320°F |
| Hemp oil | | 330°F |
| Coconut oil | Virgin (Unrefined) | 350°F[7] |
| Sesame oil | Unrefined | 350°F |
| Soybean oil | Semirefined | 350°F |
| Corn oil | Unrefined | 352°F |
| Vegetable shortening | | 360°F |
| Avocado oil | Un-Refined, Virgin | 375-400°F |
| Canola oil(Rapeseed) | Expeller Press | 375-450°F[5] |
| Olive oil | Extra virgin | 375°F |
| Lard | | 390°F |
| Olive oil | Virgin | 391°F |
| Castor oil | Refined | 392°F |
| Canola oil | Refined | 400°F |
| Walnut oil | Semirefined | 400°F |
| Olive oil, high quality (low acidity) | Extra virgin | 405°F |
| Macadamia oil | | 413°F |
| Tallow (Beef) | | 420°F |
| Cottonseed oil | | 420°F |
| Almond oil | | 420°F |
| Grapeseed oil | | 420°F |
| Hazelnut oil | | 430°F |
| Sunflower oil | Refined | 440°F |
| Corn oil | Refined | 450°F |
| Peanut oil | Refined | 450°F |
| Coconut oil | Refined with stabilizers | 450°F |
| Sesame oil | Semirefined | 450°F |
| Sunflower oil | Semirefined | 450°F |
| Palm oil | Difractionated | 455°F |
| Olive oil | Pomace | 460°F |
| Soybean oil | Refined | 460°F |
| Olive oil | Extra light | 468°F |
| Canola oil | High Oleic | 475°F |
| Ghee (Indian Clarified Butter) | | 485°F |
| Tea seed oil | | 485°F |
| Mustard oil | | 489°F |
| Rice bran oil | | 490°F |
| Safflower oil | Refined | 510°F |
| Avocado oil | Refined | 520°F |
Reference Chart Source: Wikipedia
Topics: Comparing Oils, Quality Control