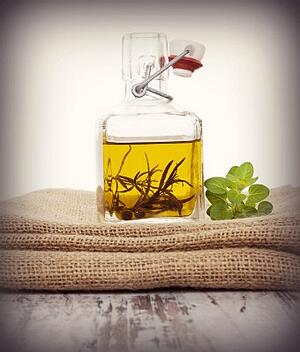 There's a lot of reasons people opt for EVOO over lots of the other types of oils out there. Health benefits often top the list for why people choose the "liquid gold".
And what makes Extra Virgin Olive Oil so healthy? Both olive oil, sunflower oil and canola oil are high in monounsaturated fat (the healthy-for-you kind of fat). So what would put EVOO above the others if their fat make-up so similar? Well, it's not just about the kind of fat molecules that they're made up of -- EVOO has a little bit of extra magic inside.
The biggest thing that makes EVOO so healthy is the unique disease-fighting components found in lots of superfoods. And the #1 component on that list? Polyphenols.
...Never heard of them? We'll give you the run down on what they are and what they do for you.
What Are Polyphenols? In English Please...
Polyphenols are a group of over 500 phytochemicals, which are naturally occurring micronutrients in plants. These compounds give a plant its color and can help to protect it from various dangers. When you eat plants with polyphenols, you reap the health benefits as well.
The polyphenols typically act as antioxidants. They can help prevent cellular damage from free-radicals that occur with pollution, smoking, eating rancid foods, and as a byproduct of normal metabolism. It's also thought that polyphenols contribute to the body being in an anti-inflammatory state. This is also associated with a lower risk of several chronic diseases. Source
Polyphenols are found in coffee, tea, red wine, vegetables, fruits and other plants that help protect against diseases and cancer. And of course, they're found in Extra Virgin Olive Oil too.
Polyphenols in Extra Virgin Olive Oil
Polyphenols are a key component to Extra Virgin Olive Oil, and are considered to be one of the best health benefits within the oil.
Polyphenols furnish the immune system, protect us from heart diseases and display anticancer activity as they act as free radicals traps.
They protect olive oil from oxidative damage and they contribute to its superior oxidative stability among other edible oils. They also affect its taste, giving it a distinctive bitter flavor. ²

Types of Polyphenols
There are a number of different types of polyphenols, including oleuropein, tyrosol, hydroxytyrosol, oleocanthal and oleacein. Each are considered extremely strong antioxidants, and are linked to a number of different benefits, including:
Maintenance of normal blood pressure
Upper respitory tract health
Affects certain proteins in the brain that are involved in memory, learning and thinking
Helps keep blood sugar under control
Potentially treat or reduce the symptoms of and/or prevent type 2 diabetes
Protects blood lipids from oxidative damage ¹
Vitamin E
Vitamin E is a good example of one of these antioxidants. Vitamin E is a significant component of olive oil, and is thought to decrease the risk of many cancers.
Oleocanthal
This is one of the important polyphenols that produces a stinging feeling in the back of your throat in especially peppery or bitter olive oils. Though that taste is a learned one for some people, but the properties of this component are known to be some of the best parts of the oil for you.
This component mimics the effects of ibuprofen, by reducing inflammation. This has a particular effect on long term inflammatory illnesses, including certain cancers and is considered beneficial in the prevention of Alzheimers.
Information resources: ¹European Food Safety Authority and ²Olive Oil Times
Topics: Extra Virgin Olive Oil