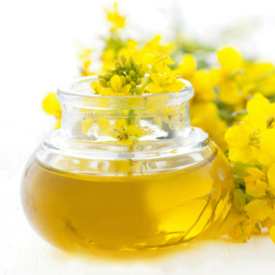 The smoke points of oils are important. They indicate at what temperature a particular type of oil will begin to smoke at, and are key for allowing manufacturers to choose the right oils for their current production process.
Canola oil is a common oil used in manufacturing and by home chefs so this is a popular discussion. Depending on who you ask, you may get different indications of smoke point temperatures from each different supplier, even if they are supplying the same type of oil.
Here's a good indication of the smoke points of canola oil.
There's Variance In Smoke Points
Every manufacturer has slightly different chemical make-up of their oils because of their processing methods or the variation that happens with each lot (it is, after all, a natural product, so it will vary in the real world).
You may also see smoke point variations because of subjectivity during testing, and the particular lot that was tested.
Smoke Point Of Canola Oil (And Other Oils)
The Institute of Shortening and Edible Oils, Inc. released a chart that includes the results from their smoke, flash and fire point tests for different commercially available oils. Though the oil you get may not match these measures exactly, their results can give you a baseline to compare against your supplier(s) spec sheets.
The canola oil smoke, flash and fire points are listed below. I've also included a few other similar oils for comparison purposes.
Oil Type
Smoke Point (F)
Flash Point (F)
Fire Point (F)
Canola Oil
457˚
619˚
662˚
High Oleic Canola Oil
464˚
644˚
680˚
Coconut Oil
385˚
563˚
626˚

Palm Oil

489

˚

615

˚

666

˚

Palm Olein

446

˚

615

˚

666

˚
Corn Oil
455˚
617˚
670˚
Soybean Oil
464˚
626˚
680˚
Soybean Oil (hydrogenated)
446˚
626˚
680˚
Cottonseed Oil
450˚
606˚
680˚
Peanut Oil
446˚
633˚
680˚
Sunflower Oil - Mid Oleic
412˚
607˚
678˚
Sunflower Oil - High Oleic
471˚
606˚
680˚
Rice Bran Oil
444˚
615˚
695˚
Lard
464˚
626˚
680˚
Editors Note: "The values in this table represent typical smoke, flash and fire points for each commercially available edible fat and oil. The values are based on a single test for each fat and oil source, thus they do not represent a statistically valid mean or indicate of the range of values attributable to each of the source oils. Smoke, flash and fire points may vary within a source oil due to such factors as processing techniques, and/or seasonable variations. In addition, there can be analyst subjectivity when using this test procedure (AOCS Cc 9a-48 method)… Commercial samples were tested after deodorization and had a free fatty acid content of 0.05% or less."
Topics: Canola Oil