If you're starting a retail store where you will sell a variety olive oils and vinegars, you're going to need to partner with a specific kind of supplier-- someone who's going to be just right for your kind of business.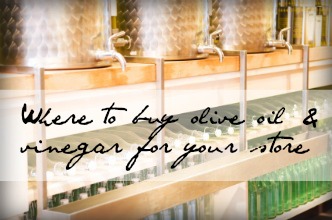 There's lots of different types of olive oil suppliers out there, so it's important to look for the right kind. We'll help you keep in mind all of the different things you're probably going to want from your new supplier, to help focus your search.
If you are at the very start of opening a specialty retail store for oils and vinegars, this is a list of the kinds of things that you're going to want from your supplier:
Infused or flavored oils/vinegars
Lots of different origins to select from
Bottles and corks
Fustis for each type of olive oil
Smaller volumes (like 5-20 gallons) of each type to keep inventory low and allow the oil to rotate through as quickly as possible
Ideally, delivery in the form of a pallet of 35 Lb. Containers and each box might be a different type of oil or vinegar.
Extensive background information on the farm, the owners, the type of olives used, how old the trees are, and the date the oil was pressed.
Look for a supplier that can help meet all of these needs as you're opening a new store.
If you own a market or grocery store:
If you have, for example, a small Italian market or grocery store and you're looking to open up a olive oil tasting bar inside, you may be better served partnering with a different kind of supplier than the situation above would. In fact, your normal food service supplier may be the best option to supply you with a few 35 Lb. Containers of different types of oil. Just go for a brand of premium Extra Virgin Olive Oil from a particular region. Since they're already making weekly deliveries, they're probably going to be your easiest and cheapest option. You'll just be responsible for purchasing your own fustis and bottles.

If you're wanting a larger volume and/or you're going to infuse it yourself, you might be better off to work with a larger distributor that can ship you a drum or a pallet at a time.
In conclusion…
There are many different kinds of suppliers: importers, brokers, manufacturing suppliers and gourmet retail store suppliers. Make sure you recognize all of the different features that you're looking for before looking for the right type of olive oil supplier.