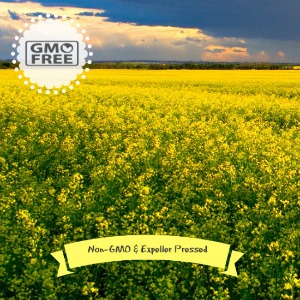 The debate about GMOs is a big one right now. The natural foods industry is seeing a swift and strong movement towards GMO avoidance in food products. This change, many would say, has been a long time coming.

Canola oil is at the center of this debate. It is among the top 5 crops that are genetically modified in the US, along with sugar beets, soy, cotton and corn. Canola oil that has been genetically modified has become the norm in the food industry; around 90% of the current canola harvested comes from genetically modified seed.
Where The Misunderstanding Lies
In the storm of the non-GMO movement, some people are (incorrectly) claiming that canola seeds, at their genetic foundation are a genetically modified plant and Non-GMO options cannot, therefore, exist. This misled claim comes from a misunderstanding about why genetic modification has come into play, and what it's purpose was. Let us begin with with the growing of the canola plant.
The Story Of The Canola Plant
When first produced, canola oil originally came from a plant known as Rapeseed (Brassica napus L.). The plants now used to make canola oil are from a different variety, known as canola plants. These canola plants are the result of the hybridization the rapeseed plant. Some varieties of canola are hybrid and some are open pollinated; both of these are the result of traditional breeding, not genetic engineering.
Genetic engineering came into play as these canola plants were genetically modified to be tolerant to Roundup and also to produce Bt toxins that are toxic to certain insects. This genetic engineering involves splicing genes, and the specific purpose was to make this crop less susceptible to insects and disease.
Not All Canola Is Genetically Modified
It's important to understand that the crops (once known as Rapeseed, now known as Canola) didn't morph from one variety to the other using genetic engineering-- that happened through a natural hybridization process. Therefore, it's not in canola's "life blood" that it is a genetically engineered oil at it's foundational level.
The genetic engineering was done on some of these canola seeds to help them grow more successfully. Some canola seeds are genetically engineered and some are not-- it all comes down to what is actually planted in the ground.
Therefore, canola seeds that are non-GMO can exist, and therefore, Non-GMO Canola Oil is a real thing available on the market today.
If you're looking for a good resource on the topic of GMO avoidance, we suggest contacting The Non-GMO Project or finding more information on their website.
You can also find Non-GMO Canola Oil that has been Non-GMO Project Verified™ as well.
Want to get information like this delivered to your inbox? Subscribe to this blog.
Topics: Canola Oil, Non-GMO