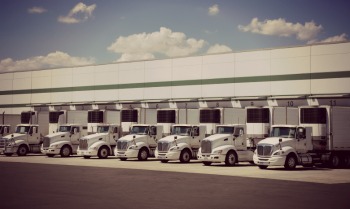 A price for bulk olive oil can be quoted 'F.O.B.' or 'Delivered'. Have you ever wondered what those terms mean? A clear understanding is very important to allow you to to do accurate cost comparisons.
F.O.B. Pricing
F.O.B. stands for "Freight on Board" or "Free on Board" depending on who you ask. This term indicates who pays the transportation costs.
Let's look at a real-life example. If a pallet of olive oil is priced "FOB Centra Foods Kent, WA 98032" that means the bulk olive oil is priced sitting in our Kent, WA warehouse, ready for shipment. Any shipping cost is the responsibility of the buyer, though it can be prepaid by us or arranged collect by you. If a price is quoted "FOB Customer Facility, City State Zip" this means that it is priced sitting at the customer's warehouse, and all shipping fees have been paid by the supplier.
Note: The definition of this term can vary if you're discussing domestic shipments traveling within the US or international shipments. For our purposes, we're only looked at this term relating to domestic pallet shipments within the US.
Delivered Pricing
Delivered pricing is the price of the olive oil once it is delivered to a specific location. This pricing includes all transportation costs, paid for by the supplier. For example, if a truckload of olive oil is priced "Delivered to Customer Facility, City State Zip" this is the cost of the oil including all transportation and unloading costs, sitting at the customer's facility. For our purposes, delivered pricing is the same as "FOB Customer Facility, City State Zip".
Most often, this pricing is based on specific volumes and the seller has to be aware of any special delivery needs of the shipping address prior to quoting. This delivered quote is labor intensive and is only offered to customers with higher volumes or those already interested in moving forward with an order.