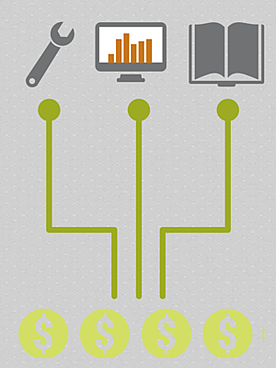 If you're a sales rep for a food service company, selling olive oil can be a challenge. It's a premium item, and it's typical for customers to have lots of questions about the product. This can affect your ability to simply make the sale.
But, it's also a great staple item for you to set up with your accounts, and it can add up to a steady commission over time.
To be able to make the sale, you'll need to be an olive oil expert. Your customer may need guidance when choosing grades, coordinating testing, and finding packaging that will work in their facility. You will need to be the one that can walk them through the selection process.
Since we know you can't be an expert on every item that you carry, we've put together a whole list of resources that will be helpful for you to advise your customers and make the sale.
Calculations and Conversions Sheet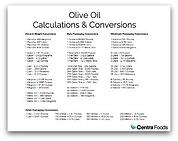 You will need to help your customer compare all their bulk oil options to find the best value. The only issue? Math.
It's a simple thing, but many different suppliers price their olive oil based on different units. Sometimes it's volume-based, sometimes it's weight-based, and these units can be anything from pounds to oz. to gallons to milliliters.
Download this Calculations and Conversions Cheat Sheet to share with your customers (or your sales manager) to help you compare pricing more accurately with your customer. Keep this print out handy at your desk for when you need it!
Subscribe to the Olive Oil Times
Stay up to date on the latest industry news. In the last 3 years, the olive oil times has transformed into an ever-flowing source for industry news around the globe.
The most interesting sections for you might be:
Business: This will help you be up to date when prices go up, so that you can forewarn your customers and explain what is happening-- before they see the price change.
Olive Oil General Info: Information to help you sell particular brands of olive oil over others, and help your customers decide which grade of olive oil will be best for their use.
Download eBooks about Olive Oil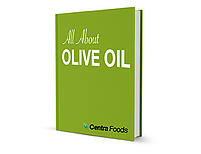 It's hard to find good oil advice that's specific to the size of your customers' business. To help back up the basic advice that you will have, download the Small Business Guide To Buying Olive Oil. This eBook is written specifically with your target customer in mind, and you can use the advice found within to help guide your advice to your customers.
You'll find answers to your customer's most common questions related to:
What's the best packaging size?
What's the right olive oil grade for my product?
Are you (as a distributor/re-seller) my cheapest option or is there a cheaper alternative? (The answer is usually yes, you are the cheapest option.)
You can find all the information in this guide, written specifically for your customers questions and concerns.
BONUS #4: Search the Bulk Oil Blog Knowledge Base
If you're stumped by a tough olive oil question, you can always search all of the articles found within this bulk oil blog. Click here to look through the entire list of available articles and answers.
Topics: Food Service