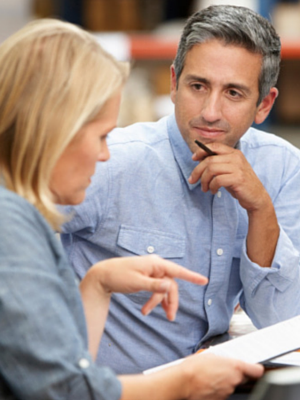 As a food service sales rep, your can use your industry knowledge and trust to make more sales. Your customers care about low cost, convenience, and receiving a consistent quality and taste.
By helping your customers do true packaging and price comparisons, you can become an advisor for their oil needs. As a natural result, you will make more sales.

So how do you get there? You first need to be an expert in the products that you carry and understand how they relate to your target market.
That's why we've put together a list of the 3 best ways to provide relevant information to your customers, with the tangible resources you'll need to advise them. We know you can't be expected to know everything about the olive oil industry, so think of this as your personal cheat sheet.
The 3 Best Ways To Connect With Olive Oil Buyers and Sell More
Educate Customers About Their Bulk Edible Oil Options
Stock up on knowledge about the oil industry, and then share the wealth with your customers. Approach them as an advisor with information about what grades are available and why they might want to choose one option above the other.
We know you can't be an industry expect about every product that you carry (well, not yet at least). To learn more about olive oil, how it's made, and how to store it, you can download the eBooks below to give your customer insight that will be useful in their kitchen.
You can even print it out and bring it to leave with your customer at your next visit:
Help Your Customers Choose Packaging That Works For Their Facility (And Saves Money)
Restaurants and corporate kitchens are best off choosing small packaging sizes that are easy to store and handle. Packing like the 35 Lb. Containers and 1 Gallon Plastic Jugs are usually best.
Some of your customers may be looking at the option of 55 Gallon Drums. Help them weigh the options by reviewing these articles:
Most often, I caution restaurants against using 55 Gallon Drums. The savings can be tempting, but they're not enough to outweigh the ease-of-use found with the 35 Lb. Containers (especially if they're using a spigot attachment like this one).
Use your resources to help them do a cost analysis for their own facility.
Help Them Weigh The Best Ways To Save Money
Talk to your customers about the best ways to save money. If their immediate goals are to cut costs, there are a number of options that you can present to them. You can choose a different, lower grade, try larger packaging, and change how often (and how much) oil they're bringing the oil in.
What's important is to be involved in this discussion. If there is a better way to save money, you can help them put it into place. If not, at least you've compared all options with them out in the open and you've been a helpful asset to their buying process.
Key Takeaways
Your food service customers (restaurants, hotels, casinos) care about getting the lowest possible cost and having a packaging that is convenient and easy to use.
You can help them achieve these goals by doing the following evaluations with them:
Educate them about the oils available, typical flavor/color profiles and which are cheapest
Evaluate what will be the best packaging to choose for their facility
Figure out what changes they can make to save money, and help them put these adjustments into place
Topics: Food Service