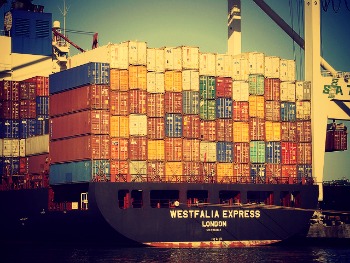 Choosing an olive oil supplier is a complex process. At the heart of this debate, before you begin doing comparisons, you'll need to decide if you prefer to work with a US-based supplier or an international supplier. If you choose the latter, you will be responsible to import the oil yourself.
As you start the vendor comparison process for bulk olive oil, here's a few advantages you might enjoy by working with a domestic supplier here in the US:
1. Inventory is available immediately
A domestic bulk olive oil supplier brings huge volumes of oil into the United States and holds inventory at their packaging plant(s) for their customers. Inventory is constantly rotating-- oil goes out to customers and new oil comes in from the manufacturing plant overseas.
As a purchaser for your manufacturing company, you can expect a standard lead time of 2-3 weeks for inventory to arrive-- instead of 2 months, if you were importing it yourself.
2. Receiving documentation is simple and painless
Most US food manufacturers have high standards for the ingredient documentation that they expect to receive with each shipment. As an account manager, I receive daily requests from customers looking for 20-30 documents for their bulk oils (including these most common ones)-- I don't bat an eye.
These standards are not universal though; international suppliers don't always offer documentation as quickly or as plentifully as you might need. For example, you might wait until after your oil arrives in the US to receive your Certificate of Analysis.
Of course, it's all about who you partner with, so keep in mind that there are exceptions on both ends. US suppliers are more accustomed to meeting your documentation needs, but it doesn't mean that a supplier overseas absolutely won't be able to do it.
3. You won't have to work with customs, which will save your company time and money
If you are importing bulk oils directly, they'll have to pass through customs. There's a number of things that you can expect from that process:
You'll need to show proper documentation
You will be responsible for a number of fees to get it through the border
You'll then need to arrange shipping to get it from the port to your location
It takes time to go through this customs process
The process of monitoring and coordinating your overseas shipment all takes time from your staff, and money for you to pay for them. Overseas shipments require a lot of checking up and hand holding to make sure that everything goes okay. Any US supplier will have a designated purchaser and logistics coordinator who takes care of all of this. Before making your final decision, ask yourself-- who will be responsible for this at your company and will it take away from other more important tasks?
Make Your Decision By Answering This Basic Question
Sometimes working with a US supplier can sometimes simply be easier, though not necessarily as romantic as importing oil directly from overseas. But as a manufacturer, do you need any more romance in your buying process?
All jokes aside, the most important question for you to consider is-- will importing your olive oil be worth the money and time that your company will spend the get the oil directly from the farm to you?
The answer all depends on your original motivation for why you wanted to import your olive oil in the first place. Address this question to help the other aspects come into line, to decide which option is going to be best for you.
Good luck! And if you like information like this, you can subscribe to our blog to get it emailed to your inbox automatically.
Image source
Topics: Food Manufacturing, Suppliers, Food Service