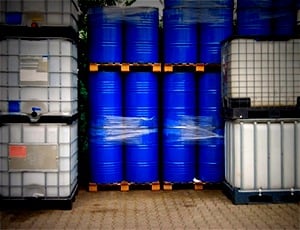 Here are some of the pros and cons of the two most common pack sizes for olive oil used in manufacturing. Work with your operations team to learn about your warehouse/production restrictions and goals before choosing the right size.
Pros and Cons of Drums
55 Gallon Drums are smaller and easier to move around if you have limited space or don't have a forklift.
They use a reusable pump that goes into a hole at the top of the drum.
Drum are priced slightly higher than the totes (usually $0.02-0.03 /lb more).
Drums weigh about 500 lbs each (including the weight of packaging)
Pros and Cons of Totes
Totes are large "box containers" made for warehouse/industrial settings
There are three standard sizes: 264 gallons (2,009 Lbs.), 275 gallons (2,098 Lbs.) and 330 gallons (2,511 Lbs.)
There are two standard types of material they're made up of: hard plastic totes with an aluminum frame (and built in pallet) or Bag-In-Box Totes (BIB)
They each have a spigot located near the bottom of the tote that is used to dispense the oil.
You can use this tote dispensing attachment, which we recommend.
A forklift or pallet jack is required to move these around
They take up the same space as 4 drums on a 48" x 48" pallet or 40" x 48" pallet
The 330 gallon size tote holds 6 drums worth of oil. This size will save you approx. 33% on shipping costs!
To learn more about packaging options, visit the packaging section of our Education Library or download the eBook, the Manufacturer's Ultimate Guide To Bulk Oil Packaging.
Topics: Packaging