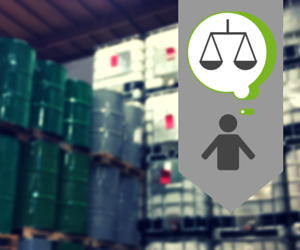 The packaging you choose for your raw manufacturing ingredients affects how smoothly and efficiently your production process will run.
If you're debating between drums or totes, there are 3 parts to decision, and they have to do with how your packaging and production team will interact. If you consider these 3 components thoroughly with your team, you'll almost automatically walk away with a smart decision. You'll need to think about:
How you get tho oil out
How much storage space you have
How much money you want to save
Consider These Key Things Before Choosing Drums vs. Totes Of Bulk Oil
How You Get The Oil Out
How the oil is taken from the packaging and put onto your production line directly affects your food manufacturing team and how easy their job is-- every day.
You will want to choose a packaging that is easy for your team to access and tie into your manufacturing set up.
Drums
Drums have a hole at the top known as a bung hole. It is 2" in diameter and it is used to dispense the oil using some sort of tap or drum pump.
We suggest this drum pump (it's what we like to use in our own warehouse). If you'd like more details, here's the total drum pump set up that you can put into place, including all of the different parts we'd recommend.
Totes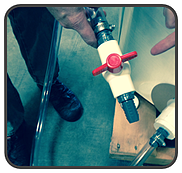 While totes come in varying sizes and materials, they all pretty much dispense in the same way: they use a valve at the bottom that the oil pours out of. If you've been in industrial purchasing for a while, you probably have a tote pump set up that you're comfortable with.
If not, we'd recommend this tote dispenser. It's something that we made, because we didn't like what was available (or better said, not available) on the market. This system is simple to set up and makes using totes much more straightforward.
How Much Storage Space You Have
Whether you order drums or totes, it's going to come packed onto a 40"x48", 44"x44" or 48"x48" pallet. Depending on how much space you have, you may restricted from certain pallet layouts, so read this section carefully.
Drums
Drums weigh about 500 lbs each and come 4 to a pallet. The standard size for that pallet is 40" x 48". They're easier to handle if you have a fork lift or a pallet jack. You can separate them if you need to to fit in odd spaces.
Totes
Depending on the size of the tote, the pallet layout can vary. A smaller tote (264 gallon) comes on a 40" x 48" pallet. Other totes, depending on their size, can come on 43"x43" or 44"x44" pallets. Large 330 Gallon Totes come on 48" x 48" pallets.
This information may seem tedious, but here's why it matters: if you store your totes on a pallet rack (a shelf that you store them on) or you have limited space, the difference between 40" and 48" can matter. An 8 ft. Interior width is standard, so some of the larger totes may be too tight.
Make sure you measure your space and see what you've got to work with before choosing your totes.
How Much Money You Want To Save
Drums are smaller and use more packaging. Totes are larger and use less packaging. Because of this, totes are usually slightly cheaper than drums. Every supplier is different, but many provide some sort of discount for buying in totes.
You just need to make sure that if you're switching to tote packaging to save money, make sure that you set production up with all of the necessary valves and hoses to be able to use the totes efficiently.
Topics: Food Manufacturing, Packaging