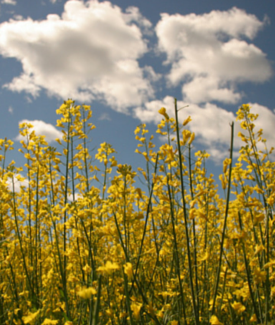 Canola Oil is commonly used in food manufacturing. But did you know that there are 4 different kinds of canola oil available?
If you're overseeing the procurement for your next manufactured food product, you'll need to compare each type of canola oil to decide which is going to be the right fit.
This article will compare the two most common options-- expeller pressed canola oil vs. regular (often called 'conventional') canola oil. We'll compare how they're made, along with why you might want to choose one over the other.
Canola Oil (Conventional)
Canola oil is oil that comes from the seeds of the canola plant. It is used in food manufacturing, personal care products and by chefs across the US and Canada. It has a light flavor and color, and is ideal for sautéing and frying.
Conventional canola oil is produced using the industry standard of solvent extraction. A solvent, typically hexane, is added to the canola seeds to remove the oil. The oil is then refined, bleached and deodorized to give it a light color and flavor.
This oil dominates the canola oil market. In fact, around 90% of the canola oil produced is this conventional canola grade (though these percentages are changing quickly with the growing popularity of non-gmo oils).
If the description of your oil simply says canola oil on the label, with no mention of expeller pressing or non-GMO, you're most likely buying this conventional canola oil grade.
Expeller Pressed Canola Oil
Expeller pressed canola oil is oil that has been physically squeezed out of the seeds of the canola plant, using a machine known as an 'expeller press', as opposed to being solvent extracted.
This oil comes at a premium price, because the expeller production process is more time consuming and expensive. It also produces a lower oil yield than solvent extraction.
Which One Is Right For Your Product?
You'll find the right canola oil for your product by weighing your overall goals against the product prices and features.
Your Product Features
First make a list of any of the features that you want your end product to have: Non-GMO, Organic, Expeller Pressed, etc. This will help give you some guidelines to start.
Your Target Market
Then consider your target market. Which type would they prefer that you use? Would they care either way? If you're selling to the natural foods sector, you'll want to use the expeller pressed canola oil (or perhaps even the Non-GMO Expeller Pressed Canola Oil).
How It's Being Used
Lastly, determine how you're going to use the canola oil. If you're using it as an ingredient, a standard canola oil will do, but if you're frying with it you'll want to consider using a high-oleic canola oil that has up to 10x the shelf life.
After you consider the above, you'll want to get pricing for each different type of oil you're considering and go through your standard R&D testing process. Want to start now? Request a price quote.
Have any questions about expeller pressed canola oil and how it's different from regular canola oil? Ask us in the comments below, and we'll answer!
Topics: Canola Oil