We've worked with many food manufacturers who want to make the switch from conventional (GMO) canola and soybean oil to their non-GMO alternatives. Many opt for non-GMO canola oil, which is a highly popular option right now.
If you're working on getting your product Non-GMO Project Verified, or even if you just want to use more non-GM ingredients, Non-GMO Canola Oil can be a great fit -- for a lot of reasons. It's a mild-tasting, versatile oil that can be an ideal ingredient in many different types of products.
With that in mind, it's important to understand your different options when it comes to Non-GMO Canola Oil. There's two main types of Non-GMO Canola Oil that you'll find on the market today (and one new, less common option).
Non-GMO Canola Oil, Expeller Pressed [Most Common]
This Non-GMO Expeller Pressed Canola Oil is made from non-GM versions of the seed that comes from the canola plant. The term "non-GMO" describes a characteristic of the seeds, and means that the plant and seeds itself were grown without the interference of genetic modification (yes, this is true).
To get the oil out, these seeds are expeller pressed. The term "expeller pressed" means that it is physically squeezed out of the seeds of the canola plant, rather than expelled using a solvent like hexane (which is the standard in the canola industry right now).
This oil has a standard level of monounsaturated fat in comparison to other canola oil profiles. As you will see, that is in contrast to the "high oleic" version of non-GMO canola below, which has higher oleic levels and is made up of more monounsaturated fat.
If you are looking at swapping out your current conventional canola oil, this oil will be an almost identical swap. You shouldn't need to do any new R&D testing, and it should function exactly the same as what you're used to.
To learn more about this particular oil, you can read any of the following articles:
High Oleic Non-GMO Canola Oil, Expeller Pressed [Good For High Heat & Frying]
High Oleic Non-GMO Expeller Pressed Canola Oil is different (and a step up) from the oil list above in one primary way: it's made from the high oleic versions of non-GMO canola seeds rather than from canola seeds with regular fat profiles.
These high oleic seeds are slightly different in that their fat make-up is slightly changed: these seeds contain more oleic acid and as a result are made up of more of the healthy monounsaturated fats and less polyunsaturated fats.
This slight difference makes the oil healthier for you overall -- this type of canola oil contains more of the healthier type of fat inside it.
The higher level monounsaturated fat also changes the functionality of the oil. Monounsaturated fats are more stable than polyunsaturated or saturated, which means that this oil will oxidize more slowly even when exposed to high heats. As a result, it has a longer shelf life. It also lasts longer when it's used for frying -- the stability of this oil allows it to not break down even when it's used at high temperatures. This makes it an ideal fry oil, and actually helps you save money by using less over time.
To learn more about this particular oil, you can read any of the following articles:

Non-GMO Canola Oil, Cold Pressed & Unrefined
A brand new oil to the market is a cold pressed non-gmo canola oil.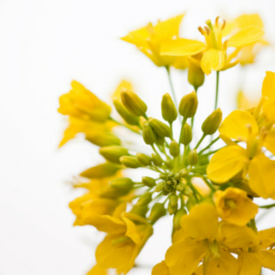 This oil is made from the same type of seeds as the top oil: the regular non-gmo canola seeds. However, rather than being expeller pressed which uses a grinding mechanism, it is cold-pressed using a similar mechanism at a slower speed.
The real difference here is how quickly this expeller pressing is done. Because expeller pressing is grinding hard seeds at a steady pace, this process in itself causes friction which causes heat. Cold pressed oils use the same expeller pressing process but at a low speed to keep the temperature from naturally rising. This helps preserve the natural qualities and nutrition in the oil.
This oil is also not refined using the high heat and steam deodorizing process (as the two oils are above). This means that the canola oil has a natural nutty flavor to it and a bright, deep yellow color; unrefined oils maintain their original color and flavor much more so than refined oils.
This oil is currently a special order oil for Centra Foods which requires a unique supply chain to be put in place -- however, it is now available! Contact us to learn more about the minimum order requirements.
To learn more about this particular oil, we recommend reading:
Topics: Non-GMO