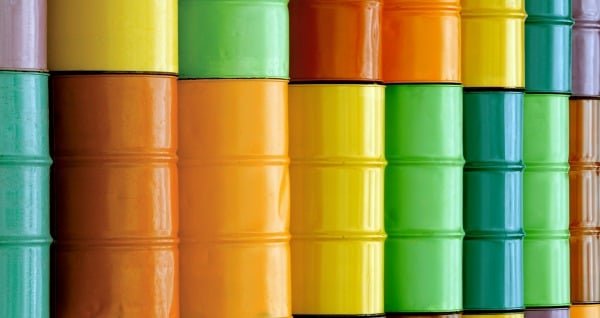 Are you looking at bulk oils for the very first time from a bulk supplier? If your answer is yes, there are a few basics you will need to know. For example, you'll need to know how much oil you are getting in one shipment, determine the weight of the different packaging options, and understand how much oil you are getting on one pallet.
Let us address these three basic questions, as well as why you need to know these weight calculation totals:
What is gross weight? Gross weight helps you choose the right packaging and do shipping calculations.
How much oil fits on one pallet? We will give that calculation to you when we do the breakdown.
What is net weight? You will need to know what net weight is to figure out and compare pricing.
What Is Gross Weight?
The gross weight of an item includes both the product that's inside and the packaging. In this case it includes the weight of oil and the packaging. For example, the gross weight for a 35 Lb. Container (filled with oil) would include the oil weight (35 lbs.) and the box weight (1.8 lbs.). This leaves you with a total gross weight of 36.8 pounds.
To calculate the gross weight of a pallet you will need to include the weight of oil and all of the packaging and the pallet itself to get that total.

Gross Weight Shipping Calculations
Why is the gross weight so important? Well, because your shippers care about the total weight. The reason is that the shipping company wants to know how much the item weights that they will be picking up and delivering to you. It doesn't fully matter what just the oil weighs as that is not the total that they need to carry. In order to give your shipper the total gross weight of your order, you have to factor the weight of oil, packaging, and pallet.
How Much Oil Fits On A Pallet?
To give a very quick comparison, the calculations breakdown below will be your guide for how much of each oil packaging fits on a pallet:
1 Gallon = 7.61 lbs.
1 Drum = 419 lbs.
1 Pallet = 4 drums
1 Tote = 275 Gallons (2,093 Lbs.)
1 Pallet = 45 6x1 Gallon Cases (Plastic)
1 Pallet = 60 4x Gallon Cases (Plastic)
1 35 lb. Container = 4.60 Gallons
1 Pallet = Sixty 35 Lb. Containers
What Is Net Weight?
Net weight in this case is the weight of oil — and only the weight of the oil. The weight of packaging and pallet is not included in this weight.
Net Weight For Price Calculations
Net weight is very important as you are comparing prices. Most bulk oil prices offered in the US are done by pound. An example when purchasing 55 gallon drums you'll need to know a few things such as:
How much is oil per pound?
How many pounds of oil is in a drum? (Note: suppliers may fill them to different weights)
How many drums fill one pallet?
Now lets look at another common packaging. You will find that even for 35 lb. containers the questions remain basically the same either way.
How much oil per pound?
How many pounds of oil are in each 35 lb. container?
How many 35 lb. containers come stacked on a pallet?
Topics: Shipping & Logistics, Prices & Saving Money, Purchasing & Procurement