Shipping is a big factor when you're determining your delivered bulk oil price.
Typically, your supplier will initially give you an FOB cost, which is the price sitting at their facility. Then your shipping will be a special cost to your address that will be added on to that. Those two factors will give you your delivered oil price, which really the important factor to focus on because it's the actual money that will be coming out of your pocket.
So how do you figure out your delivered prices, including the cost of shipping? We'll explain.
How To Figure Out How Much Shipping Costs and Determine Your Landed Prices
Getting The Initial FOB Cost, Without Shipping
Getting the initial FOB pricing from your supplier is pretty simple. If you're just buying a few pallets, they should have a current price that is standard based on how much you buy. If you are getting a quote for a flexitank or tanker, or something that is not a stock item, that may take a few extra days.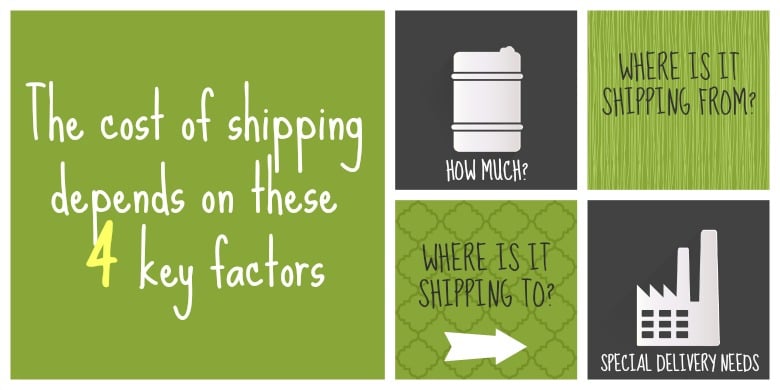 Adding In The Shipping Cost
The cost of shipping depends on these 4 key factors:
How much is being shipped
Where it shipping from
Where it is shipping to
And do you have any special delivery requirements
Your supplier should be able to give you an estimate from their location. Want our estimated freight cheat sheet? Download the freight estimate cheat sheet below.
If Your Supplier Offers Free Or Discount Shipping
If you have a standardized fee for shipping or it is free, that means that your supplier is either:
a.) averaging the cost of the many different shipments that they do,
b.) covering some of that shipping cost and adding it into the price of the products that you're buying or
c.) running a short term promotion
If you're being offered free or discount shipping, just be aware of what's going on. If they're offering it, that's good, there's nothing wrong with that-- it's just important to know this as you're comparing freight. It's a factor that can skew the results, so remember to focus on your delivered or landed costs for an accurate comparison.
For Small Businesses: Shipping Is Expensive, But Buying In Bulk Will Save You Money In The Long Run
For small businesses considering buying in bulk for the first time, the high price of freight shipping rates can throw a wrench in your plan. Freight shipping can be expensive, especially if you're used to just shipping a few boxes across the country via FedEx. You have to remember that you're paying for the 18-wheeler to drive many hundreds of miles, the gas, the drivers time, etc. That said, freight shipping allows your ingredients to deliver in bulk and, if you're ready, this is a smart move. To learn more about this and how it relates to your small business, download the eBook, The Small Business Guide To Buying Olive Oil.
Always remember to look at the delivered costs to do a true comparison. Working with a high-level supplier across the country is sometimes less expensive than working with your local distributor-- if the lower ingredient costs can make up for the added freight, then it's worth it! Otherwise, you should continue to buy locally.
Like receiving information like this? Subscribe to this bulk oil blog.
Topics: Shipping & Logistics