We've all got Thanksgiving dinner on the brain. I know I do.
With Thanksgiving tomorrow, I hope you're finishing up your grocery shopping tonight and getting all of your recipes prepped for tomorrow.
In case you have yet to finalize the last few delicious creations you plan to make, I've gathered a few great recipes below that use olive oil. Olive oil can be a great addition to Thanksgiving, and you can use it in more creative ways than you may think.
Of course, it's great to slather on your turkey before putting it in the oven. But here's a few more delicious (and beautiful!) recipes you can use olive oil in.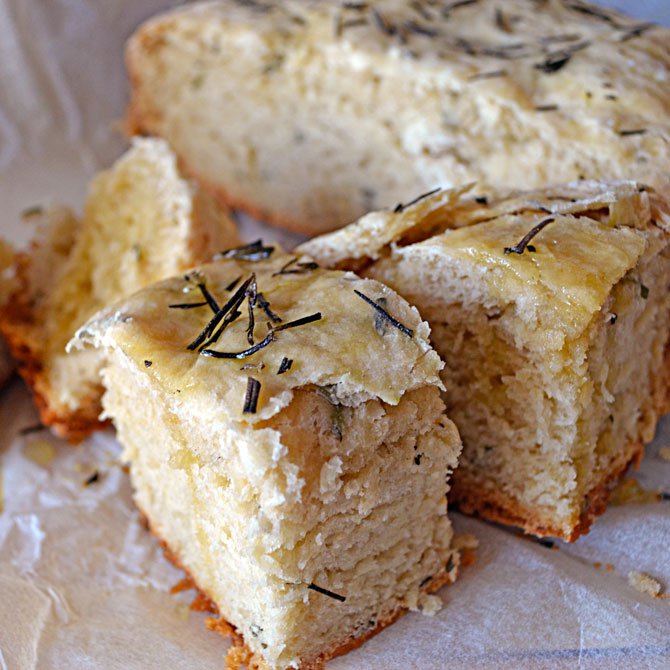 Prep Time: 1 hour 35 mins
Total Time: 3 hours 35 mins
This Rosemary Olive Oil Crock Pot Bread has the same flavors as the Macaroni Grill favorite, but is made in the Crock Pot so you don't have to heat up the whole house. Best of all, it's extremely easy to make, and you don't even need a stand mixer!
Ingredients
3½ cups all purpose flour
1 packet dry active yeast (2¼ teaspoons)
1¼ cups warm water
¼ cup fresh rosemary, chopped, divided
3 tablespoons extra virgin olive oil, plus more for drizzling
1 teaspoon sugar
1 teaspoon sea salt or kosher salt, divided
You will also need:
Parchment paper
Paper towels
Crock Pot
Directions
In a large bowl, mix together the water, yeast, and sugar. Let sit 10 minutes. The mixture should become bubbly.
Stir in half of the salt (1/2 teaspoon), half of the rosemary (2 tablespoons), the 3 tablespoons of extra virgin olive oil, and all of the flour. Mix until fully combined. Work it together with your hands, if necessary.
Lightly grease a large bowl and place the dough in. Cover it with a kitchen towel and leave the dough in a warm, draft-free area. Let it sit and rise for 1 hour.
Remove the dough from the bowl and gently roll it into a ball on a floured surface. Let it sit for another 20 minutes.
Set the crock pot to high. Line the crock pot with two pieces of parchment paper, leaving at least 2 inches hanging out of each side of the crock pot. Place the dough in the crock pot and sprinkle it with the remaining salt and rosemary.
Drape paper towels over the top of the crock pot and then place the lid on. This should capture any moisture that would sit on the lid and prevent it from dripping back onto your bread.
Cook the bread for 2 hours, and remove from the crock pot. It will most likely still be a bit pale on the outside. It tastes great this way, but I like to put mine on a baking sheet lined with parchment paper and put it under the broiler for a quick 3 - 5 minutes to get a crunchier, darker crust.
Let cool before slicing. Serve with extra olive oil drizzled on top.
Notes
To line the crock pot with parchment paper, tear off a long piece and place it in the crock pot in a U-shape, and then take another piece and do the same perpendicular to the first piece, so four sides come to the top of the crock pot in different directions and the majority of the inside of the pot is covered with parchment paper.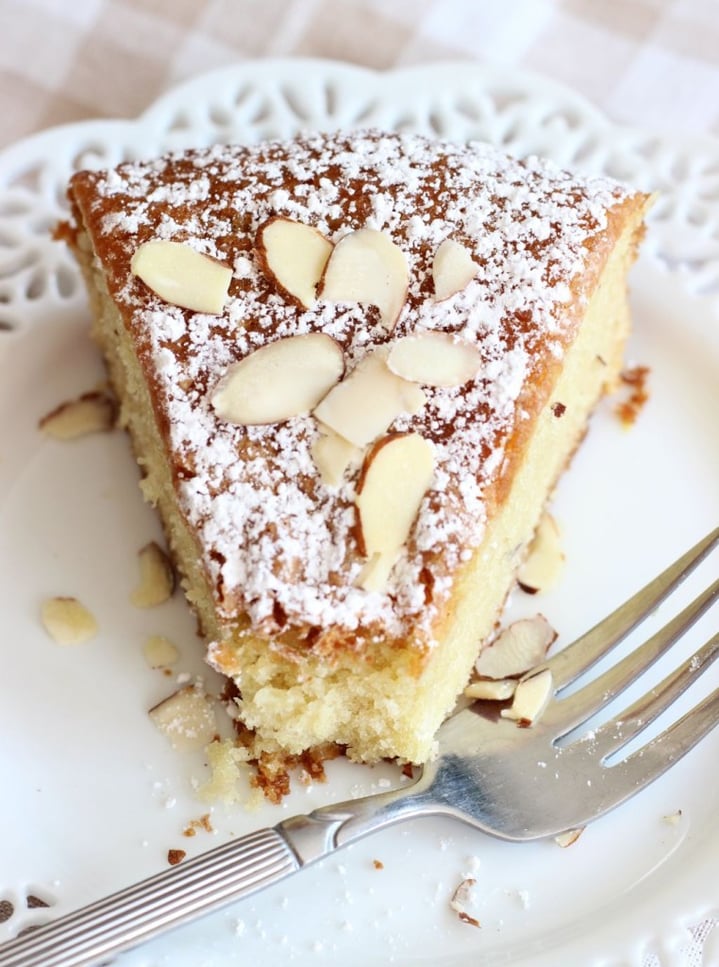 Total Time: 1 hour 10 minutes
A citrus and almond-infused olive oil cake. The flavors of this cake are so incredibly unique and wonderful!
Ingredients
2 c. flour
2 tsp. baking powder
½ tsp. baking soda
pinch of salt
½ c. buttermilk or sour milk
1 tsp. vanilla extract
1 tsp. lemon zest (or ½ tsp. lemon extract) + 2 tbsp. lemon juice
1 tsp. orange zest (or ½ tsp. orange extract) + 2 tbsp. orange juice
1 tsp. almond extract
3 eggs, at room temperature
1½ c. sugar
⅔ c. extra virgin olive oil
¾ c. slice almonds
Directions
Lightly grease a 9-inch springform pan.
In a medium bowl, whisk together the flour, baking powder, baking soda, and salt; set aside.
In a small bowl, mix together the buttermilk, lemon juice, and orange juice; set aside.
In a large mixing bowl, beat the eggs and granulated sugar at high speed until pale and fluffy, about 5 minutes.
Lower the speed to medium-high, and drizzle in the olive oil slowly, beating until incorporated.
Mix in the lemon and orange zests (of if using extracts, add them to the buttermilk mixture).
With the mixer on low, add half the flour mixture until incorporated.
Add the buttermilk mixture next, then the remaining flour mixture, until just blended.
Fold in the almonds.
Scrape batter into prepared pan.
Bake at 350 for 40-45 minutes, or until the top is golden and a toothpick inserted near the center comes out clean.
Let the cake cool in pan on a wire rack for 20 minutes, then carefully remove the pan sides and allow cake to cool completely.
Dust with powdered sugar just before serving.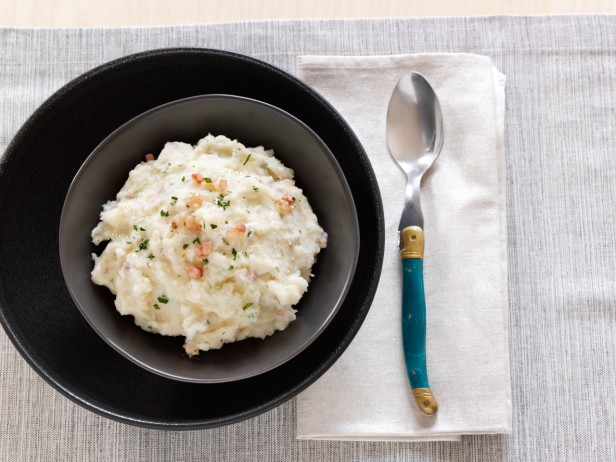 Total Time: 35 minutes
Ingredients
3 pounds Yukon gold potatoes, peeled and cubed
Kosher salt
2 ounces pancetta, cubed very small
1/2 small yellow onion, chopped fine
1 cup whole milk
Freshly ground black pepper
1/4 cup extra-virgin olive oil
2 tablespoon roughly chopped fresh parsley
Directions
Add the potatoes to a large pot of cold water. Season well with salt and bring to a boil. Simmer until tender, 15 to 20 minutes.

Meanwhile, add the pancetta and onions to a large skillet. Turn on the heat to medium-high, and saute until the pancetta is crisp and golden. Add the milk and season with salt and pepper. Heat until hot.

Drain the potatoes well in a colander. Use a food mill to rice the potatoes into the milk mixture. Fold together the potatoes with the hot milk, olive oil and chopped parsley.

Ingredients
1/4 cup olive oil
3 tablespoons chopped fresh basil
3 to 4 garlic cloves, minced
1/2 teaspoon salt
1/4 teaspoon pepper
4 medium tomatoes, diced
2 tablespoons grated Parmesan cheese
1 loaf (1 pound) unsliced French bread
Directions
In a large bowl, combine oil, basil, garlic, salt and pepper. Add tomatoes and toss gently. Sprinkle with cheese. Refrigerate at least 1 hour.

Bring to room temperature before serving. Cut bread into 24 slices; toast under broiler until lightly browned. Top with tomato mixture. Serve immediately.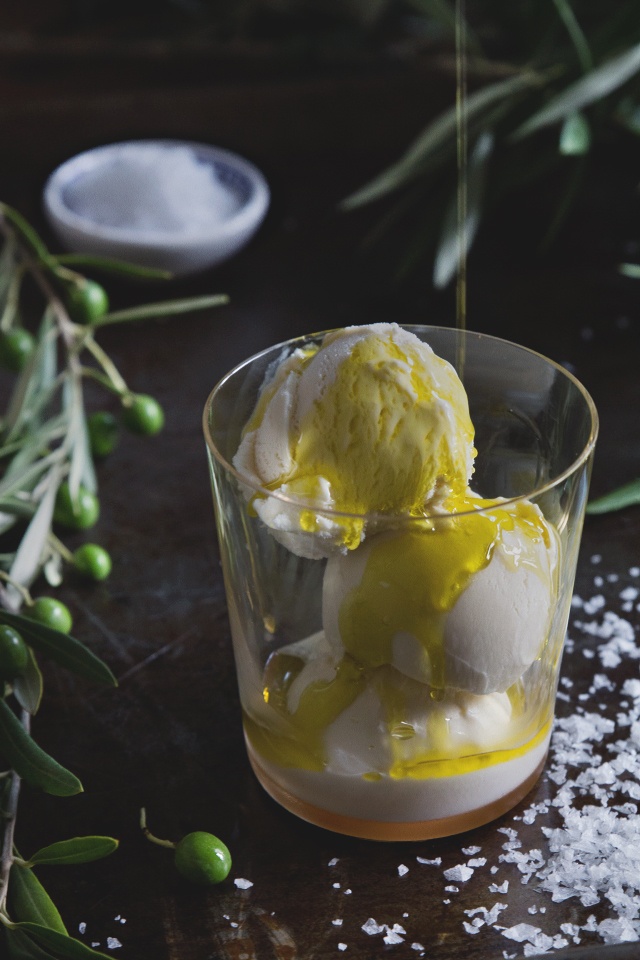 Okay, I know you may be wearily eyeing this one. I did at first too. But it's really delicious! If you want to kick it up a notch, try it with Salted Caramel Ice Cream -- this creation is my personal fav.
Ingredients
vanilla ice cream (or Salted Caramel)
extra virgin olive oil
sea salt flakes
Directions
Place 2-3 scoops of ice cream in a cup or bowl
Drizzle a couple glugs of olive oil over the ice cream
Sprinkle a pinch of sea salt over the top
Enjoy!
Topics: Extra Virgin Olive Oil