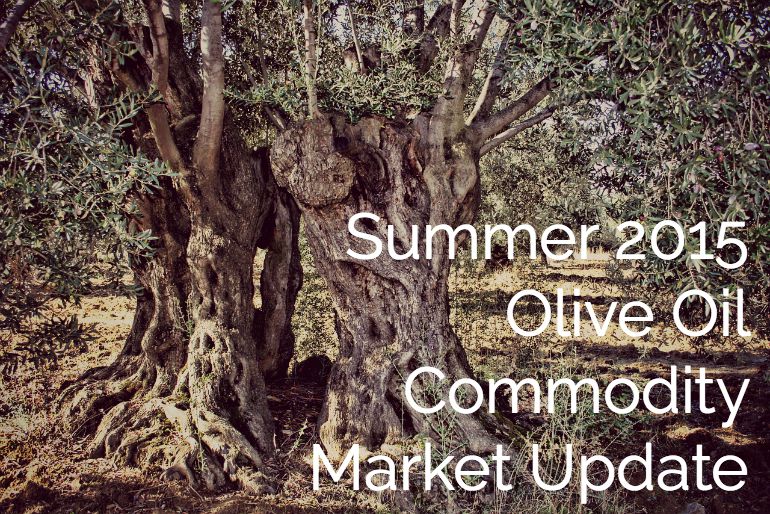 All of us in the olive oil sector are excitedly waiting for the next harvest season this winter.
This last years harvest (October 2014 - January 2015) was substantially down from the year prior, and we've seen both lack of supply and a resulting increase in prices over this spring and summer.
Every year, olive oil prices are at their lowest between December-January, at the peak of the harvest season. Over the spring and summer, prices continue to slowly rise as the world's olive oil inventory is used up. In the middle of September, Spain officially announces what their next year's harvest is going to look like (this matters because they are the world's price driver), and prices either jump up or drop down accordingly.
Because of this annual cycle, olive oil prices in the summer are often high and many olive oil users look forward to the next season with fingers cross for a good year.
2014/15 Olive Oil Production In Review
Production in the 2014/15 harvest season was lower than plentiful years prior. Overall, the world's production was down a total of 29%. This was caused by a 42% drop in production in all EU countries, which is where most of the olive oil is made.
Spain's production dropped 53%, while Italy's production dropped 52%. To give you some perspective, just for those two countries, that's a total of 1,185,700 Metric Tons or 2,608,540,000 (2.6 BILLION) pounds of oil that was not produced this year in comparison to last. That's 60,000 truckloads of oil that didn't exist in the world this year that was available last year. You can see why that's bound to affect supply and demand and prices!
Spain and Italy relied on imports to support the steady demand for their oil, particularly from Tunisia. In fact, Spain imported 831% more than last year, while Italy imported 255% more than last year. Tunisian production continues to do well, with production 300% higher than it was last year.
2014/15 Olive Oil Imports In Review
As a result of the lower production and higher prices, imports did drop in some locations. Imports into Australia were down 14%, imports into Canada were down 11%, while imports into the US were down 2%. On the other hand, imports rose in Japan 10%, in Brazil 3% and in China 2%.
Olive Oil Price Trends
At the end of June, prices in Spain were 63% higher than they were a year earlier. Prices in Tunisia were 43% higher than last year (following Spain's market, since they are the price driver for the industry). Prices in Italy were 55% higher than last year — still, Italy's price were almost double that of Spain and/or Tunisia due to global demand for "Italian Olive Oil".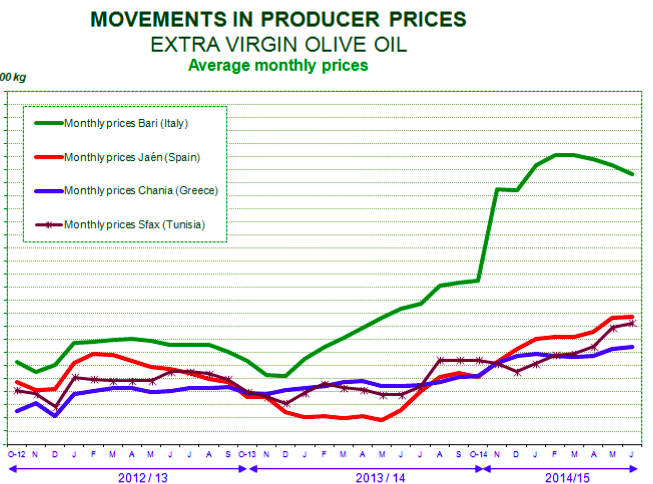 Prices of refined olive oil were just slightly behind that of the price of Extra Virgin Olive Oil. This is due to the fact that with less olive oil available in general, extra care (and less wait time) is given to the olives and more of the olive oil can be produced as Extra Virgin Olive Oil. Due to the lack of supply of refined olive oil, prices go up to almost match that of the EVOO.
The IOC refuses to comment on the debate if prices are fair, given the costs to produce vs. the possibility of dwindling demand if prices go up to cover those costs. They state:
"It is not for the IOC to judge whether these price levels reflect an adequate balance between production costs along the supply chain and the prices that consumers are prepared to pay in their domestic currently to continue consuming olive oil. Never the less, this is a concern that all market players will no doubt take into account for the long-term sustainable equilibrium and development of the sector."
Source
Topics: Harvest/Commodity Market