Many now believe that the non-GMO trend "tipping point" has been passed, with major brands like General Mills, Post, Hersey's, Unilever, Campbell's, Chobani, Hellmann's and Pepsi all releasing non-GMO versions of some of their products.
"We are now at the tipping point and with this major momentum the shift to non-GMO food is only going to gain more speed", says Todd Larsen, executive co-director of Green America.

"These 10 victories demonstrate the important role consumers play in shaping our food supply. As more and more consumers demand healthy, sustainable food made without GMOs, we expect more companies to follow suit and produce goods without GMOs. The victories to date are part of a larger trend towards simpler ingredients and transparency in GMO product labeling". Source
Here's an outline of the changes that have occurred with many of our major brands and when:
Cheerios (General Mills) (January 2014): Removes GMOs from original Cheerios.
Grape-Nuts (Post) (January 2014): Removes GMOs from Grape-Nuts, and obtains Non-GMO Project verification.
Chobani (March 2014): Commits to working towards non-GMO & organic feed for dairy cows.
Hershey's (February 2015): Removes GE ingredients from Kisses and milk chocolate bars.
Hellmann's (Unilever) (May 2015): Offers non-GMO mayonnaise options.
Similac (Abbott Laboratories) (May 2015): Introduces non-GMO infant formula.
Campbell's (July 2015): Releases several organic and non-GMO products including organic soups and goldfish crackers made with organic wheat.
Sabra Hummus (Partially owned by Pepsi) (May 2016): Removes GMOs from many hummus varieties.
Enfamil (Mead Johnson Nutrition) (May 2016): Introduces non-GMO infant formula.
Gerber Good Start (Nestle) (May 2016): Introduces non-GMO infant formula.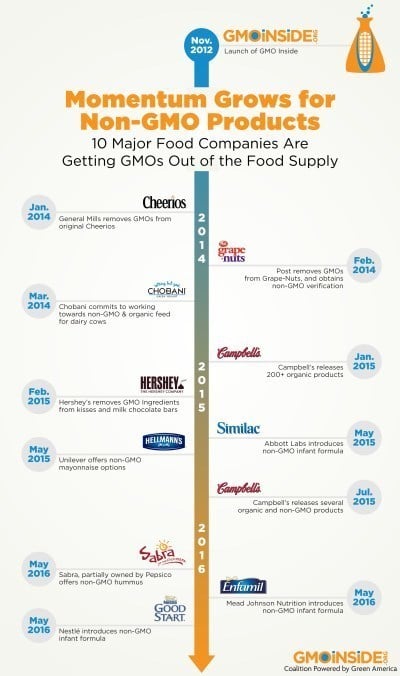 Topics: Non-GMO