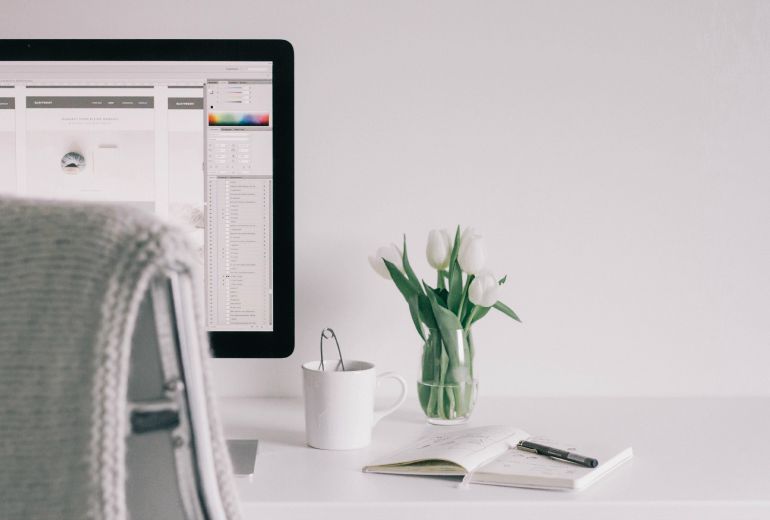 Branding your organic food company should be pretty simple right? People want what you have — all you need to do is tell them about it and voila! you should make sales.
In reality, however, branding an organic food company is a unique challenge. You're selling to a niche market. Organic foods are in high demand, but at the same time, new products are emerging every day to meet consumers' growing hunger. And often times, large national brands (with existing recognition and shelf appeal) are the ones releasing these new organic product lines.
So how do you, a small and growing organic company, compete?
Michelle Lopez, founder of Organic CEO, works with emerging organic food brands to help them develop their message and sell to their market. She suggests focusing your marketing efforts on 3 main strategies.
Speak Simply
Michelle explains that there are many different levels of understanding and appreciation about organic foods. She describes these as the many levels of "organic awareness" and purports that there are 8 different awareness levels consumers can stand at.
Unaware
Aware But Apathetic
Curious
Trying it Out, But Not Committed
Gung Ho Newbie
Disillusioned
Unsure of Who to Trust
Gung Ho AND a Healthy Skeptic
Simply put, she says, the lowest level is completely unaware of the information surrounding organics and cannot hear a thing you say — unless you use entertaining and simple language to grab their attention.
If you want to reach the most potential buyers possible, you'll need to speak in a way that all of them can understand. The good news is that if you speak simply, you'll reach both the unaware and the gung-ho consumers and connect with all.
As with almost every type of marketing, sounding lofty, philosophical or using big words will not help you get your message across. With all of your marketing content, your goal should be to remove as many words as possible without affecting your message.
Keep it simple.
Differentiate
The organic market is growing fast and each category is becoming saturated. If you entered the market 10 years ago, your product may have been the only organic option for consumers looking to switch to organic. Now, chances are that there is another organic competitor already in existence (and if there's not, they're not far behind you!)
It's important to differentiate your products. Explain to your consumers what they'll get with you that they won't get from your competitors. You don't have to be rude about it or pick fights, but make sure to focus on the positives that you do offer.
Often, your points of differentiation may not be product feature bullet-points that you can list on your packaging. ("Contains Omega-3!") Sometimes it's much more complex, like your business structure, how you sell your products, what your values are, the charities they will support through your business, or your sourcing model.
I would argue that focusing on this complexity is a positive thing. Any competitor can come in and also include Omega-3s in their product. But can they completely copy your business structure, your values and your sourcing model? Not very easily.
Make sure that you fully understand your points of differentiation, and then you can decide how to share this information with your customers.
Which leads us to our last point.
Tell Stories
A story is a great way for you to paint an image and captivate your audience.
Stories are understood differently than normal marketing. Rather than trying to "sell", stories get your point across while humanizing your brand and connecting you with your customers in a new, more personal way.
There are a couple of popular types of story-based marketing, and they vary based on who you're telling the story about.
Brand-based stories
Stories about your brand humanize your company and cause consumers to connect with you in a real way (and therefore be drawn to your brand more).
The most popular brand-based stories have to do with your history. What was the moment that sparked your founder to create your company in the first place?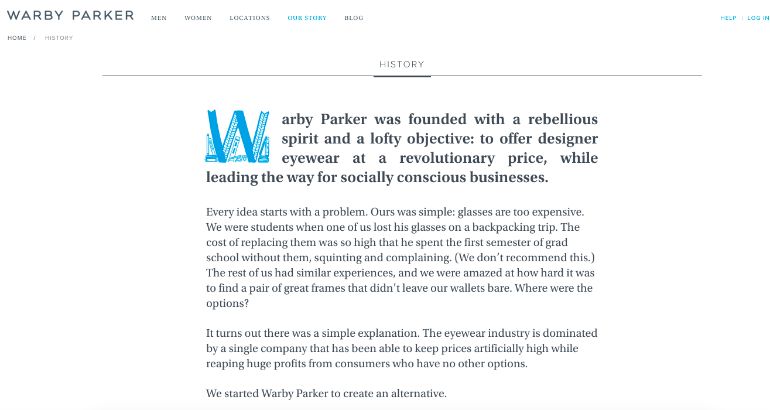 Warby Parker's brand story is a great example of this.
"Every idea starts with a problem. Ours was simple: glasses are too expensive. We were students when one of us lost his glasses on a backpacking trip. The cost of replacing them was so high that he spent the first semester of grad school without them, squinting and complaining. (We don't recommend this.) The rest of us had similar experiences, and we were amazed at how hard it was to find a pair of great frames that didn't leave our wallets bare. Where were the options?

It turns out there was a simple explanation. The eyewear industry is dominated by a single company that has been able to keep prices artificially high while reaping huge profits from consumers who have no other options.

We started Warby Parker to create an alternative."
Their story helps you picture both the problem and the moment that the idea of the brand originally came into existence. It helps justify why their company is such a good concept, and that there wasn't any other solutions to this particular problem before them.
User-experience stories
User experience stories are a way for you to market your product using the reliable power of your customer's words. Not everyone will believe your words when you try to sell your product. ("Our crackers are the best and will save the day at your next party!")
But when your customer's say the same thing, it means something!
The goal when sharing user based stories is to tell it as a real story — everyone loves the problem and resolution in a tale. Make sure that you include what your customers problem was and what your product did to resolve this.
Also, make sure that this feedback is real. Don't script your customers in any way or try to get them to say what's marketable. Their words will come off as plastic, inauthentic and the value of the story will be lost.
If you've got a customer who is an evangelist for your brand, let them tell their story naturally and you'll get exactly the information worth sharing.
Editor's Note: This article summarizes an eBook by Michelle Lopez of Organic CEO. Michelle is a copywriter and marketing strategist for truly organic companies. For more information on this article, download her eBook.
Topics: Organic, Business & Leadership