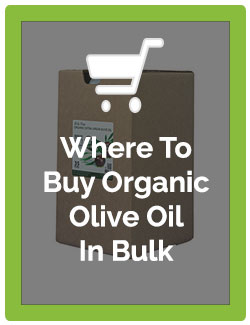 So you're looking for Certified USDA Organic Olive Oil, eh? And you want to know where the best, cheapest place to buy it is? Let's see if I can help.
In terms of finding you the "cheapest" price, your volumes are really going to determine where you should buy. If you buy 1 case per month, I can't (and won't, in my right mind) tell you to buy from a large oil supplier who works with manufacturers-- because it won't be the cheapest or easiest option.
But I will try to point you in the best direction. So based on your industry, here's the best advice I can give you...
Buy Wholesale Organic Olive Oil
Azure Standard: Azure Standard is a wholesale retailer that sells a variety of wholesale organic products. They sell cases and mixed pallet deliveries throughout the mid-west and west. They are ideal if you are using a number of organic products, and you only use a few cases of each.
Centra Foods Online Wholesale Store: An online store where you can buy 1-10 cases of oil in bulk at one time. Ideal if you use Organic Extra Virgin Olive Oil in particular, but you're not buying a lot of other organic items in the same volume.
Food Service Company: If you are a restaurant or if you buy a number of different food ingredients, you might qualify to be a customer of a food service company. Local companies may have lower minimum orders than a large supplier like Sysco, so contact some of your local options first.
UNFI
is a food service company that specializes in organic & natural foods. They would be a good first place to contact if you're looking for organic oils in particular.
For Soap Makers
If you're a soap maker, it's actually best to buy all of your ingredients from a soap making supplier. You can buy a few cases and have them shipped to you via UPS. Or, if you buy more than that, your best bet is to combine a few items on a pallet and have it shipped with a freight carrier. You'll need to buy from one that carries Organic EVOO though, and not all of them do.
Shay and Company: Great soap making ingredient supplier who's been in the industry a long time and is very knowledgeable. Ideal for shipments of a few cases or pallet orders with a mix of items. This supplier is best fit for soap makers west of the Mississippi. Located in Portland, OR.
If you can buy 4 drums of Organic EVOO, your best bet is to step up your purchasing and work with a larger ingredient-specific supplier like Centra Foods.
For Manufacturers & Distributors
If you need a larger volume (like a full pallet) of organic olive oil, you'll need to work with a larger supplier who has completed the organic certification process. It's ideal to find a supplier that is familiar with your industry and your needs (aka, the importance of prompt deliveries, good communication and documentation to back up your organic oil).
It's important to note though, this type of supplier is not automatically going to be cheaper than a Costco-type wholesale distributor or super store. It all comes down to how you buy, how close they're located and the superstores prices. To learn the upsides of why you might want to work with a Costco-type supplier, check out our article, 4 Reasons Why Buying Olive Oil from Costco May Be Cheaper Than Bulk.
Organic Certificates
Keep in mind as you're looking at organic certificates... Your supplier may pass along the organic certificate from overseas for the oil itself. This is perfectly fine, as long as they don't pack or re-pack the oil in their domestic facility. In that case, they'll need their own organic certificate that has audited their facility.
What's Next?
Request a price quote from the suppliers suggested for the industries that you're in. Start doing some comparisons, and be honest with your suppliers about what you're working on. If they're worthy partners, they're going to help you compare the best options and choose the best one for you-- not for them.
Good luck on your search!