Learn More About Packaging
---
In this video, Kevin Smith, our Production Manager, will compare the pros and cons of the cardboard bulk oil totes vs. the plastic (or IBC) bulk oil totes. This will help you decide which type of tote is right for your facility for your first purchase.

In this video, Kevin Smith, our Production Manager, will show you how to dispense out of the IBC hard plastic, caged totes. He'll take you step-by-step through the process of pouring oil out of these totes, including the best set up practices and how to attach a dispensing valve.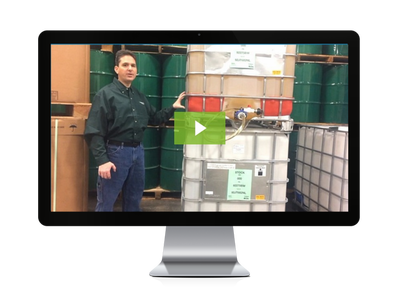 Kevin Smith, our Production Manager, will show you how to use gravity to pump out of your bulk oil totes. Using gravity is the most common, simple and economical way to dispense these bulk oil totes (as opposed to using an automated pump that sucks the oil out using a motor). A great overview on how you can set up your tote dispensing area to dispense your oil in the easiest way.
We've created spigots or pour spouts that attach to the 35 Lb. Containers and allow you to dispense the oil easily and smoothly from the 35 Lb. Containers. In this video, you'll watch Kevin Smith, our Production Manager, compare the two different types of spouts available (wide or narrow mouth) and attach the spigots.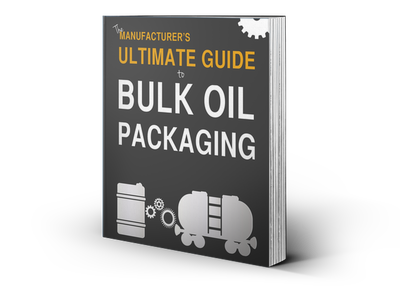 The Manufacturer's Ultimate Guide To Bulk Oil Packaging
A step-by-step guide to choosing bulk packaging that will work smoothly in your production facility and save money.
Review bulk packaging options
Compare the pros and cons of each
See how much money you can save by strategically choosing your packaging
Hear packaging advice geared towards common manufacturing goals
Get recommendations to help you SAVE
Comparing the Pros & Cons of Bulk Oil Packaging for Manufacturers
Your packaging choice strongly affects the total cost of your bulk oil. The right packaging can save you money and be incorporated into your production line easily. But the right choice is different for every facility.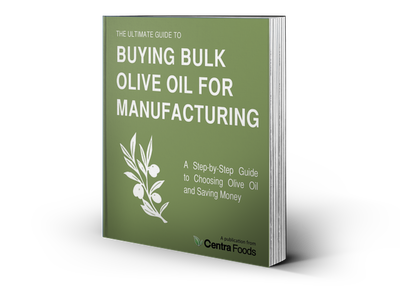 How to Save Money on Bulk Ingredients for Manufacturing
Learn how to save money on bulk olive oil and other ingedients for manufacturing. Get tips on how to save on bulk ingredients by utilizing different packaging and delivery systems. You can maintain your ingredient quality and still save money!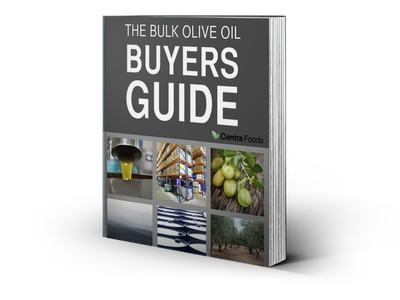 The Bulk Olive Oil Buyer's Guide
Learn all of the basics about olive oil, packaging and how to buy in bulk before making your purchase. After reading this eBook, you will know about:
Olive oil grades
Wholesale and bulk packaging
How shipping works
Oil quality certifications
About bulk olive oil suppliers
Common business questions and answers

Wholesale Oil Packaging For Food Service & Distribution
Compare the oil packaging sizes used food service and wholesale distribution. If you are a food service distributor or ingredient wholesaler, you need packaging that your customers enjoy using. Use this video to learn about the different wholesale oil packaging options and discover the pros and cons to each packaging size.


Case Study: Switching From 55 Gallon Drums to 330 Gallon Totes
Learn how a US food manufacturer saved money by switching their bulk packaging from 55 Gallon Drums to 330 Gallon Totes.
Learn how much this simple packaging change saved them each year
Understand how the change works and what your production line should be prepared for
Decide if this simple switch is right for your business too
Private Labeling Info Guide
Made for distributors who are looking to develop their own private label brand, this guide reviews important basic information such as:
Wholesale and bulk packaging options available
Minimum orders and ease-of-setup of each type of packaging
Esimated cost comparisons for each type of packaging
Advise for distributors large and small to help you get your exclusive private label brand started!
Olive Oil Calculations & Conversions
A conversions cheat sheet, providing the calculations you'll need to convert olive oil from english to metric and from weight to volume (and vice versa). Helps you compare pricing and packaging apples to apples, even if it's in different units.