In this article, we will show you a list of operations management book that inspires world's leading business leaders from Amazon, Apple, Microsoft and more.
This article was originally shared on Supply Chain Opz, and is published here with permission.
The Classic Operations Management Book
To the best of our knowledge, Operations Management by Jay Heizer and Barry Render is one of the best "classic" operations management book out there. The reasons are that it's widely used in MBA program around the world and it's one of the most highly cited OM books. If you would like to learn how to use operations management tools and techniques, this book is the ideal resource for you.
Real World Operations Management Book Recommendations
However, you're a busy operations leader who would like to formulate sound operations strategies, we believe you need different resources. But, what kind of operations management book is used in real world by successful business leaders?
Here's 10 books recommended by leading CEOs.
Recommended by Jeff Bezos (CEO of Amazon)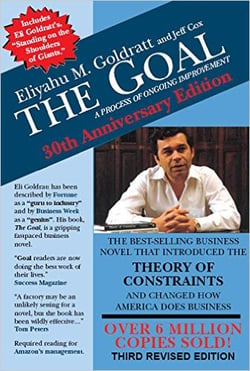 Written in a fast-paced thriller style, The Goal, a gripping novel, is transforming management thinking throughout the world. It is a book to recommend to your friends in industry - even to your bosses - but not to your competitors. Alex Rogo is a harried plant manager working ever more desperately to try improve performance. His factory is rapidly heading for disaster. So is his marriage. He has ninety days to save his plant - or it will be closed by corporate HQ, with hundreds of job losses. It takes a chance meeting with a professor from student days - Jonah - to help him break out of conventional ways of thinking to see what needs to be done. The story of Alex's fight to save his plant is more than compulsive reading. It contains a serious message for all managers in industry and explains the ideas, which underline the Theory of Constraints (TOC), developed by Eli Goldratt.
Recommended by Andrew Liveris (CEO of The Dow Chemical Company)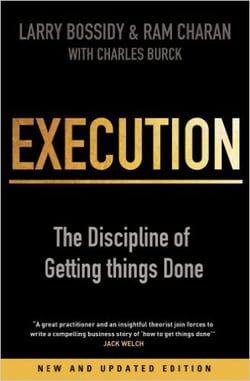 When Execution was first published in 2002, it changed the way we did our jobs. By analysing the discipline of getting things done, it helped thousands of business people to make the final leap to success. Now, Larry Bossidy and Ram Charan reframe their empowering message for a world in which the old rules have been shattered and radical change is becoming routine. For the foreseeable future: - Growth will be slower. But the company that executes well will have the confidence, speed and resources to move fast as new opportunities emerge. - Competition will be fiercer, with companies searching for any possible advantage in every area. - Governments will take on new roles in their national economies. And companies that execute well will be more attractive as partners and suppliers, and better prepared to adapt to new waves of regulation. - Risk management will become a top priority for every leader, and every company will be looking for the edge in detecting new internal and external threats. Forget formulating a 'vision', then leaving others to carry it out: Execution shows you how to link together people, strategy and operations - the three core elements of every organisation - and create a business based on dialogue, intellectual honesty and realism. With case histories from the real world - including such recent examples such as the diverging paths taken by Jamie Dimon at JPMorgan Chase and Charles Prince at Citigroup - Execution provides the realistic and hard-nosed approach to business success that could only come from authors as accomplished and insightful as Bossidy and Charan.
Recommended by Gerard Kleisterlee (Chairman of Vodafone and a former CEO of Philips Electronics)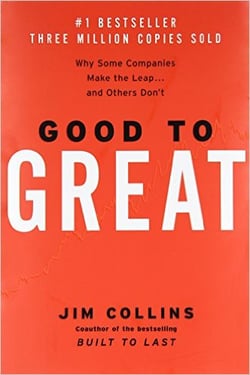 The Challenge
Built to Last, the defining management study of the nineties, showed how great companies triumph over time and how long-term sustained performance can be engineered into the DNA of an enterprise from the verybeginning.
But what about the company that is not born with great DNA? How can good companies, mediocre companies, even bad companies achieve enduring greatness?
The Study
For years, this question preyed on the mind of Jim Collins. Are there companies that defy gravity and convert long-term mediocrity or worse into long-term superiority? And if so, what are the universal distinguishing characteristics that cause a company to go from good to great?
The Standards
Using tough benchmarks, Collins and his research team identified a set of elite companies that made the leap to great results and sustained those results for at least fifteen years. How great? After the leap, the good-to-great companies generated cumulative stock returns that beat the general stock market by an average of seven times in fifteen years, better than twice the results delivered by a composite index of the world's greatest companies, including Coca-Cola, Intel, General Electric, and Merck.
The Comparisons
The research team contrasted the good-to-great companies with a carefully selected set of comparison companies that failed to make the leap from good to great. What was different? Why did one set of companies become truly great performers while the other set remained only good?
Over five years, the team analyzed the histories of all twenty-eight companies in the study. After sifting through mountains of data and thousands of pages of interviews, Collins and his crew discovered the key determinants of greatness -- why some companies make the leap and others don't.
The Findings
The findings of the Good to Great study will surprise many readers and shed light on virtually every area of management strategy and practice. The findings include:
Level 5 Leaders: The research team was shocked to discover the type of leadership required to achieve greatness.
The Hedgehog Concept (Simplicity within the Three Circles): To go from good to great requires transcending the curse of competence.
A Culture of Discipline: When you combine a culture of discipline with an ethic of entrepreneurship, you get the magical alchemy of great results. Technology Accelerators: Good-to-great companies think differently about the role of technology.
The Flywheel and the Doom Loop: Those who launch radical change programs and wrenching restructurings will almost certainly fail to make the leap.
"Some of the key concepts discerned in the study," comments Jim Collins, "fly in the face of our modern business culture and will, quite frankly, upset some people."
Perhaps, but who can afford to ignore these findings?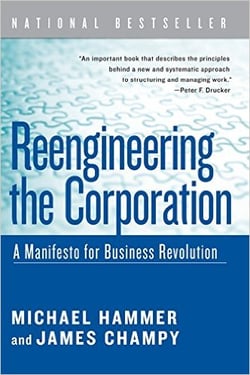 Voted by the panel of experts in the survey conducted by Forbes Magazine
The most successful business book of the last decade, Reengineering the Corporation is the pioneering work on the most important topic in business today: achieving dramatic performance improvements. This book leads readers through the radical redesign of a company's processes, organization, and culture to achieve a quantum leap in performance.

Michael Hammer and James Champy have updated and revised their milestone work for the New Economy they helped to create—promising to help corporations save hundreds of millions of dollars more, raise their customer satisfaction still higher, and grow ever more nimble in the years to come.
Competing Against Time: How Time-Based Competition is Reshaping Global Markets
Recommended by Tim Cook (CEO of Apple Inc.)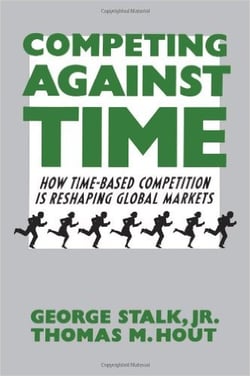 Today, time is the cutting edge. In fact, as a strategic weapon, contend George Stalk, Jr., and Thomas M. Hout, time is the equivalent of money, productivity, quality, even innovation. In this path-breaking book based upon ten years of research, the authors argue that the ways leading companies manage time—in production, in new product development, and in sales and distribution—represent the most powerful new sources of competitive advantage.
With many detailed examples from companies that have put time-based strategies in place, such as Federal Express, Ford, Milliken, Honda, Deere, Toyota, Sun Microsystems, Wal-Mart, Citicorp, Harley-Davidson, and Mitsubishi, the authors describe exactly how reducing elapsed time can make the critical difference between success and failure. Give customers what they want when they want it, or the competition will. Time-based companies are offering greater varieties of products and services, at lower costs, and with quicker delivery times than their more pedestrian competitors. Moreover, the authors show that by refocusing their organizations on responsiveness, companies are discovering that long-held assumptions about the behavior of costs and customers are not true: Costs do not increase when lead times are reduced; they decline. Costs do not increase with greater investment in quality; they decrease. Costs do not go up when product variety is increased and response time is decreased; they go down. And contrary to a commonly held belief that customer demand would be only marginally improved by expanded product choice and better responsiveness, the authors show that the actual results have been an explosion in the demand for the product or service of a time-sensitive competitor, in most cases catapulting it into the most profitable segments of its markets.
With persuasive evidence, Stalk and Hout document that time consumption, like cost, is quantifiable and therefore manageable. Today's new-generation companies recognize time as the fourth dimension of competitiveness and, as a result, operate with flexible manufacturing and rapid-response systems, and place extraordinary emphasis on R&D and innovation. Factories are close to the customers they serve. Organizations are structured to produce fast responses rather than low costs and control. Companies concentrate on reducing if not eliminating delays and using their response advantage to attract the most profitable customers.
Stalk and Hout conclude that virtually all businesses can use time as a competitive weapon. In industry after industry, they illustrate the processes involved in becoming a time-based competitor and the ways managers can open and sustain a significant advantage over the competition.
Recommended by Jack Dorsey (Co-founder of Twitter and CEO of Square)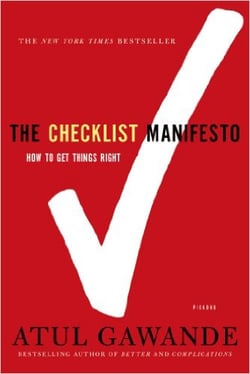 In his latest bestseller, Atul Gawande shows what the simple idea of the checklist reveals about the complexity of our lives and how we can deal with it.

The modern world has given us stupendous know-how. Yet avoidable failures continue to plague us in health care, government, the law, the financial industry—in almost every realm of organized activity. And the reason is simple: the volume and complexity of knowledge today has exceeded our ability as individuals to properly deliver it to people—consistently, correctly, safely. We train longer, specialize more, use ever-advancing technologies, and still we fail. Atul Gawande makes a compelling argument that we can do better, using the simplest of methods: the checklist. In riveting stories, he reveals what checklists can do, what they can't, and how they could bring about striking improvements in a variety of fields, from medicine and disaster recovery to professions and businesses of all kinds. And the insights are making a difference. Already, a simple surgical checklist from the World Health Organization designed by following the ideas described here has been adopted in more than twenty countries as a standard for care and has been heralded as "the biggest clinical invention in thirty years" (The Independent).
Recommended by Steve Jobs (Co-founder and a Former CEO of Apple Inc)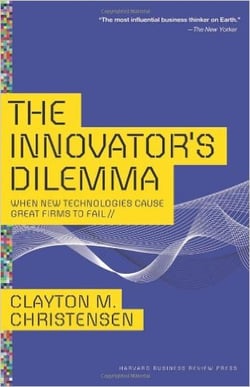 An innovation classic. From Steve Jobs to Jeff Bezos, Clay Christensen's work continues to underpin today's most innovative leaders and organizations.

The bestselling classic on disruptive innovation, by renowned author Clayton M. Christensen.

His work is cited by the world's best-known thought leaders, from Steve Jobs to Malcolm Gladwell. In this classic bestseller—one of the most influential business books of all time—innovation expert Clayton Christensen shows how even the most outstanding companies can do everything right—yet still lose market leadership.

Christensen explains why most companies miss out on new waves of innovation. No matter the industry, he says, a successful company with established products will get pushed aside unless managers know how and when to abandon traditional business practices.

Offering both successes and failures from leading companies as a guide, The Innovator's Dilemma gives you a set of rules for capitalizing on the phenomenon of disruptive innovation.

Sharp, cogent, and provocative—and consistently noted as one of the most valuable business ideas of all time—The Innovator's Dilemma is the book no manager, leader, or entrepreneur should be without.
Listed as the 25 most influential business management books by TIME Magazine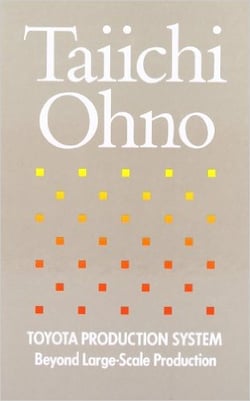 In this classic text, Taiichi Ohno--inventor of the Toyota Production System and Lean manufacturing--shares the genius that sets him apart as one of the most disciplined and creative thinkers of our time. Combining his candid insights with a rigorous analysis of Toyota's attempts at Lean production, Ohno's book explains how Lean principles can improve any production endeavor. A historical and philosophical description of just-in-time and Lean manufacturing, this work is a must read for all students of human progress. On a more practical level, it continues to provide inspiration and instruction for those seeking to improve efficiency through the elimination of waste.
Recommended by James Dimon (CEO of JPMorgan Chase)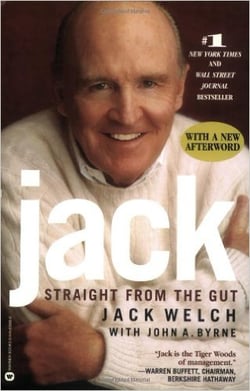 They called him Neutron Jack. They called him the world's toughest boss. And then Fortune called him "The Manager of the Century." In his twenty-year career at the helm of General Electric, Jack Welch defied conventional wisdom and turned an aging behemoth of a corporation into a lean, mean engine of growth and corporate innovation. In this remarkable autobiography-a classic business book and runaway New York Times bestseller now updated with a new afterword by the author-Jack Welch takes us on the rough-and-tumble ride that has been his remarkable life. From his working-class childhood to his early days in G.E. Plastics to his life at the top of the world's most successful company, Welch tells his intensely personal story with his well-known fire and candor. And although it chronicles billion-dollar deals and high-stakes corporate standoffs, Jack is ultimately a story about people-from a man who based his career on demanding only the best from others and from himself.
Recommended by Bill Gates (Co-founder and a Former CEO of Microsoft)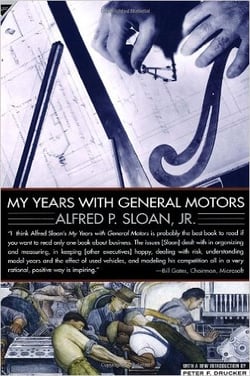 Only a handful of business books have reached the status of a classic, having withstood the test of over thirty years' time. Even today, Bill Gates praises MY YEARS WITH GENERAL MOTORS as the best book to read on business, and Business Week has named it the number one choice for its "bookshelf of indispensable reading." MY YEARS WITH GENERAL MOTORS became an instant bestseller when it was first published in 1963. It has since been used a a manual for managers, offering personal glimpses into the practice of the "discipline of management" by the man who perfected it. This is the story no other businessman could tell--a distillation of half a century of intimate leadership experience with a giant industry and an inside look at dramatic events and creative business management.
Topics: Industry Trends