If you thought that the infamous butterfly seal was everywhere, be assured that the "quality seal" market for non-GMO products is only growing and diversifying.
While the Non-GMO Project Verified seal remains the most prevalent in the retail industry, there's now a total of 6 different types of quality seals that can state that a product is in fact non-GMO.
All of these different companies offer the same sort of value: they document and verify the paper chain concerning GMOs, and make sure that any high risk ingredients are tested and that a process is in place to avoid contamination with other GMO products. At the same time, they offer a quality seal to any brands once they are verified, to show consumers which products have been reviewed by a third party to ensure that they are in fact non-GMO.
Today we'll review the different seals available, their unique features and which one is right for your product if you're in the midst of choosing.
By: The Non-GMO Project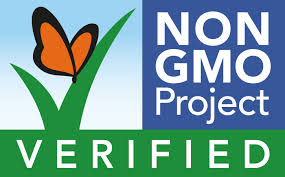 The Non-GMO Project remains the longest standing and most prevalent non-GMO quality seal (they're currently celebrating 11 years). These folks dominate the non-GMO space; if you've been in a grocery store in the last three years and you have eyes, you've definitely seen their logo.
By: NSF International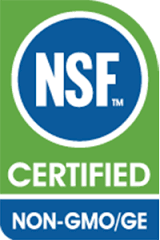 This quality seal was actually developed the global food safety firm called NSF International. They are also one of the third party companies that certifies products Non-GMO Project Verified (above). NSF has been used as a contracted company by the Non-GMO Project to help brands go through the verification process. Since they became familiar with that process, they have developed their own version of a non-GMO seal called Non-GMO True North.
By: AGW (A Greener World)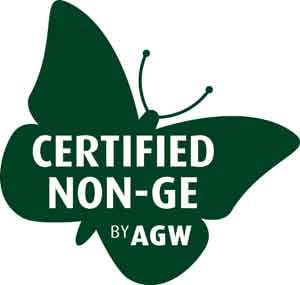 This non-GMO seal aims to guarantee that meat, egg and dairy products are produced without the use of genetically modified feed, supplements, ingredients AND are raised according to animal welfare standards. They also offer additional claims on environmental sustainability.
This certification applies mainly to meat, dairy and eggs and "is the only food label in North America that helps consumers avoid genetically engineered (GE) food ingredients and support high-welfare, environmentally sustainable food animal production".
In fact, any products approved as Certified Non-GE by AGW must also come from livestock approved under the Certified AWA (Animal Welfare Approved) farm standards. This new seal also incorporates stricter Non-GMO standards than the Non-GMO Project (0.1% GMO tolerance level vs. 0.9% with the Non-GMO Project).
Read More About This Seal: A New Non-GMO Quality Seal Is Developed
By: Eurofins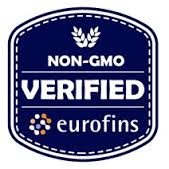 This non-GMO testing program was developed by one of the major GMO testing labs. Knowing the testing involved for different ingredients for non-GMO verification, they decided to launch their own holistic program that would offer non-GMO verification for natural brands.
A similar program is also offered by the lab SGS.
By: ProTerra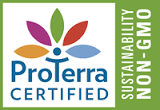 The ProTerra Certification Scheme is a full package that helps companies along agricultural values chains to, assess potential risks, monitor compliance against the requirements of the ProTerra Standard of non-GMO, guarantee full traceability and make claims about sustainable production and non-GMO towards clients and end-consumers.
Their focus is sustainably produced non-GMO commodities, primarily soy for the European Market. They currently serve a number of clients outside of the US.
By: USDA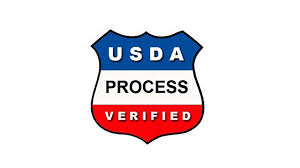 The USDA has created a program to offer 3rd party verification of a wide range of claims a company might make about it's products, including the claim of "non-GMO".
The USDA explains: "The USDA Process Verified Program is a verification service that offers applicants a unique way to market their products to customers using clearly defined, implemented, and transparent process points. An applicant's program may include one or more agricultural processes or portions of processes where self-described process points are (1) supported by a documented management system, and (2) independently verified by a qualified AMS auditor."
For example, as stated on the Official Listing of Approved USDA Process Verified Programs: Natural Products, Inc. (NPI) products verified by the USDA Process Verified Program as Non-GMO are made from soybeans that were not produced using biotechnology or genetic engineering and meet NPI's standard of 99.1% Non-GMO/Non-GE minimum (or testing specification 0.9% GMO maximum) Source
This USDA Process Verified claim can apply to much more than non-GMO, but this is a common option.
By: Natural Food Certifiers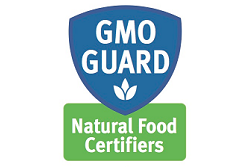 Natural Food Certifiers is a company that provides third party verification for Non-GMO, Organic (in collaboration with the USDA), Gluten Free, Vegan and Kosher. They work as a "one-stop-shop" for quality control programs, offering manufacturers verification programs for all of the different quality seals they might want.
However, none of their programs are the "industry leaders", and therefore are an ideal fit for those companies that don't need or want to work with the most recognized seals in the industry — just that they want some sort of 3rd party verification program in place.
Topics: Non-GMO