Did you know that your oil is made up of a few different types of fats — some of which are regarded as healthy and some of which are not?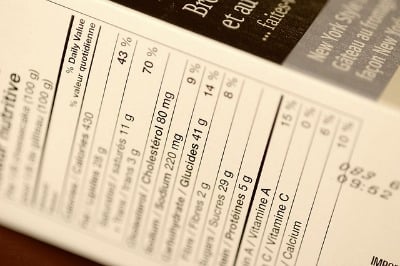 There are 3 common types of fat. The most common example is saturated fat: on a nutrition label, this specific type is listed as a subcategory below total fat on the nutrition label.
Though they're not often mentioned, there are 2 more subtypes that could be listed in the same area: monounsaturated and polyunsaturated fats. These are the types of fats that most people in the oils business take notice of, because they are what is considered "good fat". On the flip side, saturated fat is commonly considered to be the "bad fat". (Trans fat seems to be in it's own category, a widely known bad type of fat that is artificially created through partial-hydrogenation).
By looking at the different types of fat and the ratios of each within an oil, you can determine which ones are healthier and which ones you should limit. This differentiation of "good fats" vs. "bad fats" is how dietitians can make the recommendation that olive oil (high in monounsaturated fat) is healthier than cottonseed oil (higher in saturated fat), for example.
Before we go any further, let's review. In each type of oil, there will be different ratios of each of these types of fat:
Monounsaturated Fat (Healthiest)
Polyunsaturated Fat (Healthier)
Saturated Fat (Keep To A Minimum)
Trans Fat (sometimes) (Unhealthy)
Monounsaturated and Polyunsaturated Fats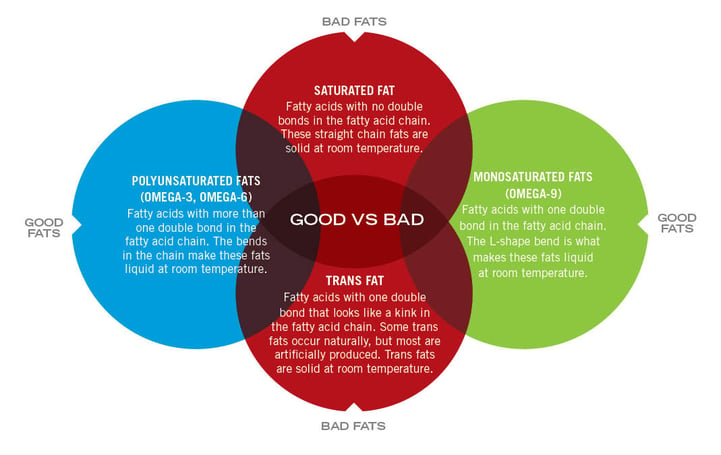 Monosaturated fats (also known as omega-9s) are fatty acids with one double bond in the fatty acid chain. This creates an L shaped bend in the molecule, which is what makes these fats liquid at room temperature.
Polyunsaturated fats (also known as omega-3s and omega-6s) are fatty acids with more than one double bond in the fatty acid chain. This bends the chain, making these fats also liquid at room temperature.
Monounsaturated and polyunsaturated fats are healthy types of fat that have numerous health benefits, including:
Prevent coronary heart disease
Prevent stroke
Prevent diabetes
Promote healthy nerve activity
Improve vitamin absorption
Maintain a healthy immune system
Promote cell development

Monounsaturated fat is typically considered to be slightly healthier than polyunsaturated.
Oils like olive oil, canola oil and sunflower oil are made up of different percentages of primarily mono- and poly-unsaturated fats. This is why these oils are considered some of the healthiest options available today.
Saturated and Trans Fats
On the other hand, saturated fats are considered to be unhealthier than their mono- and poly-unsaturated counterparts.
Saturated fats are fatty acids that have no double bonds. This creates a straight fatty acid chain which is solid at room temperature. With today's interest in organic coconut oil, saturated fat is a highly debated topic. The advice still recommended by most nutritionists is that saturated fats should be limited.
Trans fats are in their own category, because they don't occur naturally in oils in high numbers. When you do see them, it's typically because the oil has been partially hydrogenated, a process by which a liquid oil like soybean oil is made solid by changing the bond structure. Trans fats are a fatty acid with one double bond that creates a kink in the fatty acid chain.
Trans fats are predominantly found in processed foods that contain partially hydrogenated oils (PHOs), and are widely considered to be unhealthy. They should be avoided as much as possible. In fact, the FDA recently released a statement requiring that all food manufacturers swap out any PHOs they may be using to other healthier options within the next 3 years.

Compare The Types Of Oil
Use this chart to compare the average make ups of different oils between monounsaturated, polyunsaturated and saturated fats.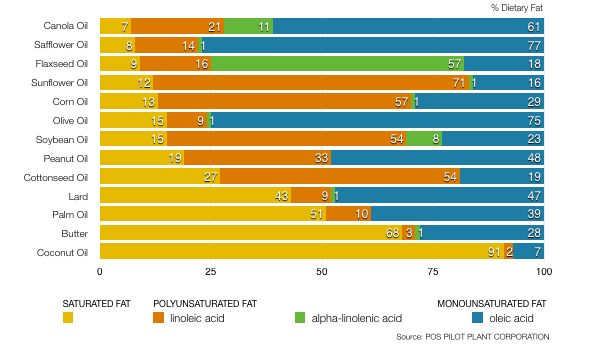 Topics: Comparing Oils