It's always interesting to me to look at the natural and organic trends on a larger scale; they show the incredible power that consumers have to shape what we as food manufacturers make. It's also amazing to me how, by acting as consumers, can shape this change through what we buy.
With this in mind, I recently ran across an infographic that I thought would be worth sharing. It outlined the timeline of the growth of the "natural" and organic food market, from the mid-90s to now. The changes are gradual at first, but clearly snowball in recent years.
Here's that outline of the yearly highlights of exponential growth we're seeing.
1994: There are 1,755 total farmers markets in the US.
2001: Organics-focused grocer Trader Joe's quintupled the number of its stored between 1990 and 2001 and multiplied its profits by 10x.
2002: The USDA adopted national standards for organic products (National Organic Program), officially bringing the movement into the mainstream.
2003: Whole Foods Market became America's first national certified grocer.
2005: By the mid-2000s, organic food sales entered a rapid growth phase, increasing by 17-20% per year (vs. 2-3% for conventional food sales).
2006: Target becomes a USDA certified organic produce retailer
2008: The 2008 Farm Act provides financial support to farmers to convert to organic production and delivers easier consumer access to organic food.
2009: The US and Canada sign he world's first reciprocal agreement between two countries to trade organic products.
2010: The US surpassed the EU as the largest market for organic products in the world following mergers, accessions and consolidation at every level of the supply chain.
2011: 72% of American parents recognize the USDA Organic seal (vs. 65% in 2009)
2012: The US and the EU, the two larger organic producers in the world, approve an organic reciprocal trade agreements.
2013: There are 8,144 total farmers markets in the US (5x the number of markets in 1994).
2014: Over the course of 1990 to 2014, there is a 3400% increase in US organic sales.
Organic food sales have grown to $35.9 billion, increasing 11% annually, representing almost 5% of total US food sales.
US federal government's mandatory spending on organics tops $167.5 million, more than 8x the amount spent in 2002.
There are 19,474 certified organic farms, ranches and processing facilities in the US (almost triple the number of facilities in 2002).
The US and Japan sign an agreement for certified organic products to be sold as organic in either country.
50% of organic food sales come from conventional grocery stores (vs. only natural grocery stores)
Walmart announces plans to invest in private label organic products
2015: Organic product sales hit a new record, $43.3 Billion, up 11% from 2014
Total US natural and organic food and beverage sales top $67.2 billion, a gain of 10.7% since 2014.
2016: There are now 21,781 total certified organic operations in the US with 31,160 operations worldwide.
365 by Whole Foods Market opens it's first store in Los Angeles.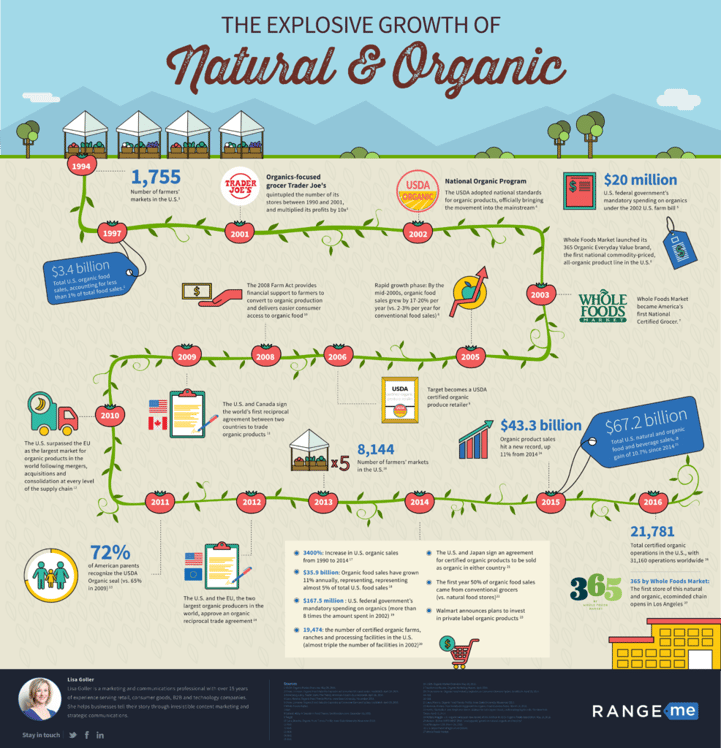 Topics: Organic, Industry Trends, Non-GMO