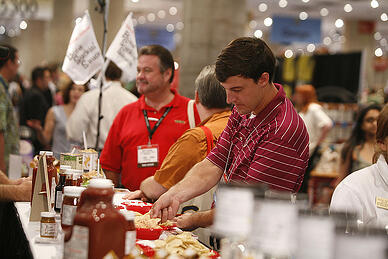 A few years ago, the owners at Centra Foods and I started going to food shows.
Lucky for me, I got to choose which shows to go to. Unlucky for me, I had no knowledge of food shows.
In typical Hannah fashion, I turned on my search skills, reached out to colleges, talked to customers and spoke with the show's event leaders.
I ended up with about as much information as one person could compile. I had charts and comparisons, but most helpful was Rachel Zemser's insight, a food consultant who reviewed these shows for people like me (and maybe you too). She spoke about the heart and soul of each event, which gave me a feeling of what it really felt like to attend. In the end, her insight helped me make the best decisions.
Below are excerpts from her review published with permission, along with some additional information from our own experiences over the last few years.
January 11 - 13th, 2015
January 17th - 19th, 2016 (unconfirmed)
San Francisco, CA
This is the largest specialty food and beverage trade show on the West Coast and lasts for about 3 days. Exhibitors range from well-known brands to small start-ups, and there is a large international section. This is a great place to discover and learn what's out there, especially if you are a start up and bringing a new brand to market soon. Expect delicious and interesting new foods. The majority of exhibitors have a product that would fit well in Whole Foods, if that gives you an idea of the target market this show caters to.
If you are a small or specialty food start-up company, I'd definitely recommend attending the educational sessions. These alone are worth the cost. They'll help you figure out your pricing structure, teach you the ins and outs of getting your product into distribution (which would take years to figure out in your own time— trust me, I've been there), and plan how you're going to bring your product to market.
There's lots of opportunities for networking, especially in those educational sessions. Tons of bloggers and writers also attend (plus, you'll learn how to pitch your new food product to them). If you are a start-up and want to exhibit at this show, it's a great way to meet buyers, connect with media and get your product out there.
Cost: $35-60, depending on when you buy, if you are a member. Membership costs $100-$500 annually for yourself or your company, depending on the type of business you have.
March 4th - 8th, 2015
Anaheim, CA
Held in Anaheim, CA, this show is similar to the Fancy Food Show, but in addition to retail products, they also have cosmetics, skincare products and ingredients for manufacturers. All products at the Natural Products Expo are "natural" (of course) and there is less international activity than at the Fancy Food Show.
This show is great for networking, seminars, seeing what's new out there and sourcing ingredients for manufacturing.
They also have a number of different seminars and educational sessions concerning the natural food industry. This year, you'll see sessions as follows:
Thursday, March 5th
Organic Series
Natural in the Media
Special Diets
Friday, March 6th
Natural Economics
Non-GMO series
"Future-of" series
Saturday, March 7th
Women in Leadership
Digital Strategies
Natural in Advertising
Cost:
$0 - $595 for an exhibit hall pass depending on when you buy and what your business is, OR $125 - $825 for a super pass that includes the educational sessions.
March 24th - 27th, 2015
New Orleans, LA
This is an interesting hybrid of a culinary and a manufacturing show. It's mostly funded by ingredient manufacturers but caters to the chefs who work in the R&D departments of large food companies. These chefs know how to develop food products in a "food science" way, and the show is an opportunity to attend food science seminars on the latest food trends.
The one-day trade show portion is mostly made up of ingredient suppliers showing how their ingredients can be used to create new or mass-produced food items. This show is great for R&D networking, and is a good way to find ingredient suppliers and connect with co-packers.
Cost: $660 - $1,040 depending on whether you're a member and when you buy your passes.
July 11th - 14th, 2015
Chicago, IL
The Institute of Food Technologists will hold its conference and food expo in Chicago in 2015 and 2016. After that, the location will rotate to places like Vegas, Boston and New Orleans in addition to Chicago.
This show is Rachel's personal fav, and is considered the biggest and baddest ingredient trade show in the U.S. It's very scientific and 50% of the attendees are R&D professionals, while 25% of the remaining are corporate management. The goal of this show is to display the latest in food technologies and ingredients. When you think of ingredients, think of the long list of ingredients you might find on a packaged, frozen goods— a lot of technology and science-based ingredients. Most of the US ingredient suppliers exhibits here, and since it is very scientific, you get all the universities, professors and students attending as well.
In 2015, about 22,000 exhibitors are expected to attend, so it's a sizable event.
This show is not a place to find new or finished retail products. This show is all about finding ingredients and technology to create new products. This is also a great show for start-up companies to attend if you really want to dig in and learn what food manufacturing is all about.
Cost: Without a membership, $370 to attend the expo portion only. Prices are broken out in more detail here, including educational sessions and other events.
October 6th - 8th, 2015
Las Vegas, NV
Held in Las Vegas, this is a great show to attend if you are looking for ingredients in the supplement, food, beverage, animal nutrition, personal care, cosmetic, pharmaceutical and sports nutrition arena. Unlike IFT (which is mostly for food) SupplySide West is a great way to connect with people in the supplement world, as well food ingredient suppliers, co-packers and equipment manufacturers — it's all here!
The attendees are usually purchasing, management and R&D personnel, and the show is expecting around 15,000 attendees in 2015. This show is held over the course of 2 days, so it all moves pretty quickly.
Other Recommended Food Trade Shows
September 28th - 30th 2015
Las Vegas, NV
This show is a great way to find special equipment and packaging technologies.
November 15 - 17th, 2015
Chicago, IL
This show is crucial for start-up companies looking for co-packers and ingredient suppliers all in one place.
March 15th - 17th, 2015
Boston, MA
This show specializes in all things seafood.
About Rachel, who's experience and information contributed to this article:
Rachel Zemser is a Certified Culinary Scientist, with experience and degrees in both food science and culinary arts. She has a BS in Food Science from the University of Massachusetts, an MS degree in Food Microbiology from the University of Illinois and a culinary arts degree from the New York Restaurant School/Art Institute. She has been working in the food industry for 18 years in both technical and creative roles and has been widely published in trade journals like Culinology, Food Product Design, Prepared Foods, The World of Food Ingredients and Food Processing. She spent 3 years at Unilever working as a microbiologist, 5 years at Kagome Inc. as their R&D chef and almost 3 years at Plum Organics Inc. Rachel's home base is in San Francisco but she spends most her time all over the U.S. working with both large and small start up companies assisting them with their food science and R&D. Rachel's work experience can be viewed on LinkedIn and she regularly tweets about the food industry.
What other food trade shows do you love? Tell us about them and why in the comments, so that we can see you there next year!
Topics: Food Manufacturing, Industry Trends, Small Businesses Advice, Food Service