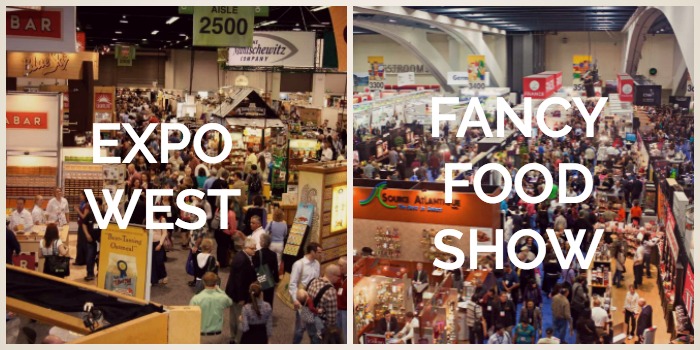 Should your healthy food company exhibit at Expo West or the Fancy Food Show? Perhaps both?
These two trade shows cater to the natural and specialty food industry here on the west cost. The question of which show to attend is typical for any marketing and sales team selling (or trying to sell) into Whole Foods Market or the natural section of any grocery store.
If you're just starting to grow a young food company and comparing these two options, we'll help you run through the pros and cons of each and compare these two popular food industry trade shows.
Expo West vs. The Fancy Food Show: Comparing The Facts
Expo West Fast Facts
Number of Attendees in 2016: 77,000
Number of Exhibitors in 2016: 3,000
Education Sessions Available: Yes
Location: Anaheim Convention Center
City: Anaheim, California
Show Serves: Natural, healthy & organic industry
2017 Dates: March 9-12, 2017
Fancy Food Show Fast Facts
Number of Attendees in 2016: 20,000
Number of Exhibitors in 2016: 1,500
Education Sessions Available: Yes
Location: Moscone Center
City: San Francisco, California
Show Serves: Retail, gourmet & specialty food industry
2017 Dates: January 22 – 24, 2017
Expo West: The Basics
Expo West is the largest natural food show on the west coast. Anyone who's attended will tell you — it's incredibly overwhelming, but fun and exhilarating at the same time. All of the inspiration you will need to get you through the year can be found here.
At this show you will find new products galore. As a complement to the food featured at this show, you'll also find bath and body products, nutraceuticals, ingredients, and pretty much every department that you would find in any grocery store. They all just circle around the natural and healthy industries.
Expo West also has a few "mini shows" within the larger exhibition. One is an organic only showcase called Fresh Market. It usually takes place in the afternoon on the first day of the show (before the main floor opens) in a separate smaller tent. You will find budding organic brands and other mainstream brands featuring new organic lines.
There is also the new "Hot Products" area, now located within the Hilton (used to be in Hall E downstairs a few years ago). These are all the products that would be coming into Whole Foods as new items that are highly popular or brand new in their segment.
This show lasts a long time and because of it's size, it takes a lot of time and energy for attendees to cover the entire thing. Therefore, there is a chance that not every person there will visit every booth, or even make it down every aisle (which is common practice at other smaller shows).
They have a great education session, especially if you are new to the industry or trying to learn more about growing your food company.
Cost Of Exhibiting
The cost of being an exhibitor is based on a lot of factors — namely, how much space your booth takes up and where you are located in the conference center (high traffic areas cost more). Most booths cost between $5,000 and $7,500 to rent the space. Of course, you'll need to factor in all the other costs involved: travel for your team, hotel, food, shipping for samples and the cost of samples themselves, POS materials and of course, the actual booth creation.
All in all, it can be a very expensive, but a very worthwhile, investment.
Fancy Food Show: The Basics
The Fancy Food Show is a smaller show, but much more manageable than Expo West. It also meets a slightly different target market — the specialty distributor, importer, or gourmet retailer rather than only the Whole Foods or organic crowd.
I would also highly recommend their education sessions for any young retail brand trying to understand how to grow sales in the retail market, how to get into distribution and how to set up pricing to fit the current distribution model. Their sessions are highly educational and while there is some networking involved, it's more about teaching you how things work and getting a broad idea on how to set up your business correctly.
Similar to Expo West, you are meeting with buyers that can immediately turn around and begin distributing your product (both in retail and in food service). So the sales investment itself is quite worthwhile.
Cost Of Exhibiting
Because this show is smaller (for better or for worse) it also comes with a cheaper price tag, so it's a lot easier to start as a new exhibitor. Booth space at this show starts at $3,400 for a 10"x10" space and goes up from there.
The booth space for both shows sell out quickly, so you'll typically want to plan about one year in advance.
Topics: Industry Trends