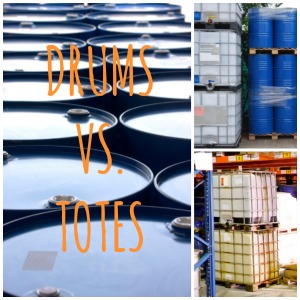 Last weekend, I went to the grocery store for some ingredients to make chicken wings. I wanted to buy Frank's Red Hot Sauce to make a homemade buffalo sauce (delicious, I know).
I could buy a small 5 oz bottle for $1.48 (which came out to $0.29 per ounce, if you're doing the math). Or instead, I could buy a larger 12 oz bottle for $2.28. On this second option, I'd pay more overall for the larger bottle, but I'd end up paying less per ounce-- only $0.19 in comparison to $0.29. Heck yeah! I thought. I took option B.
By opting for the larger packaging size, I could save money on the same exact product. If you didn't already know, you can do the same thing on your bulk oil purchases to save money: change to a larger packaging size to save money on the exact same oil.
If you're buying drums, you can switch to the totes. If you're buying 35 Lb. Containers, you can switch to the drums. Just sing this mantra-- bigger is better.
Feeling doubtful? Let's walk through it. Making the switch is easier than you may think.
Switch from 35 Lb. Containers To 55 Gallon Drums
If you're using 35 Lb. Containers of bulk edible oil, you can save money by swaping out your packaging and switching to the next size up-- the 55 gallon drums.
On average, this change will save you $0.01 - $0.04 /lb. That's $20-80 over the course of the pallet. Overtime, that savings will definitely add up.
But it's important to understand that you will interact with this packaging differently in the warehouse. You'll need to have a plan for how you will handle this larger packaging before you make the switch.
You'll need to get get the oil out using a drum pump instead of manually pouring. Here's our favorite one.
You'll also need a new way to move the packaging around in your space. Each one weighs about 500 pounds, so you won't be able to pick them up and move them like you did with the 35 Lb. Containers. A fork lift (or pallet jack at a minimum) is recommended.
Already using 55 gallon drums? Let's jump ahead.
Switch from 55 Gallon Drums To 275 or 330 Gallon Totes
If you're using the 55 gallon drums you can switch to the totes. This switch is actually the easiest to make, because the packaging functions very similarly. This means that your warehouse won't have to change how they use the oil; it should all work pretty much the same.
Across the board, making this change will save you about $0.02 /lb on the oil. Here's the math to see your potential savings:
$0.02 /Lb. x 2093 (for the 275 gallon totes) = $41.89 savings per pallet
If you switch to the 330 gallon totes, you're also going to see a savings of 33% on the shipping, on top of the $0.02 /Lb savings for the totes.
Before making the switch, make sure that your warehouse has everything they will need. Here are the questions to ask yourself.
How will you get the oil out? It will be best to get a tote pump, though you can keep using your current drum pump inserted into the top of the IBC plastic totes. Want to learn more about our favorite tote pump? Read this article, The Best Bulk Oil Tote Dispenser We've Ever Seen.
How will you move the tote around? Like with the drums, you're going to need a fork lift (preferred) or a pallet jack.
If you're hesitant about making the switch to totes, it can be helpful to understand more about how your warehouse will use those totes on a daily basis. Here's more information comparing the pros and cons of totes, for anyone who likes to do their research.
Look At The Big Picture Before Deciding
There are a few things to keep in mind as you're thinking about different packaging.
Just with like when I went grocery shopping, I had to quickly answer some basic questions to decide what packaging size of hot sauce work work for. These were split second decisions, but they had to be thought about none the less. I asked my self,
Can I store it in my refrigerator?
Will it go bad before I used it all?
It's questions like these that you'll need to think about before making your bulk edible oil purchase too. Yes, a larger packaging size will save you money. But will it really function well for you in your facility, when you're looking at the big picture? Find out by asking yourself questions like these:
Does this larger packaging make me buy more oil at one time?
If so, how much more? Can I use it all up within the best by date?
Is this packaging going to be more challenging for my warehouse to handle?
Do we have the tools and space to move this packaging around (aka, a pallet jack or fork lift)?
How will I get the oil out of this larger packaging? Does my warehouse agree that they like this pump system I've decided on?
Do your homework before making the switch. It will save you money in the long run.
Topics: Packaging, Prices & Saving Money