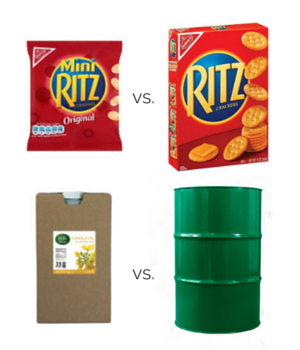 When I was little, I remember grocery shopping with my mother. I always wanted the small bags of pre-packaged crackers, perfect for boxed lunches. But she taught me quickly – "See this little box? It's $2.00 per ounce. See this big box? It's $1.00 per ounce for the same exact thing."

Surprise, surprise… We bought the big box.

Many of us have memories like this. And as adults, if we want to lower the cost of ingredients for our company, what's the first thing that you think comes to mind? That's right. We want to save money by switching to a larger packaging size.

This article aims to take a closer look at the most common packaging debate young food manufacturers have: 35 Lb. Containers vs. 55 Gallon Drums and how much you can expect to save by buying in bulk.

Note: To compare apples to apples, we're only going to compare packaging sizes from the same supplier. For a full cost analysis, it's also helpful to compare prices from a local distributor vs. a large manufacturer.
How Much You'll Save By Switching From 35 Lb. Containers to Drums
Like with any purchase, you can expect that a smaller packaging size costs more because you're paying for extra packing materials and the additional labor it takes to produce.
As expected, 35 lb. containers are more expensive than drums. But how much more? It really depends on the supplier you you use. Usually, 35 lb. containers are $.02-$.05 more per pound in comparison to the 55 gallon drums.
Over the course of a full pallet (60 of the 35 Lb. JIBs), drums save between $40 and $80.
For that amount of money, your final decision should really be based on which packaging size is easiest and most efficient to use in your space.
How Your Production & Warehouse Will Be Affected
Changing packaging from 35 lb. containers to drums doesn't just affect your wallet. It also affects many of your different hands-on departments that deal with the oil every day, and it's your job to decide which size will work best and if it's worth making a switch.
The packaging you choose will affect:
How you store and move your oil: Can you move boxes individually, or will you need a forklift to move drums around? Do you have a 5'x5' floor space to store the drums? Do you have a loading dock?
Anyone renting a commercial kitchen should not consider the drums unless they have permanent storage space on site. A facility with a fork lift or pallet jack is highly recommended.
How production uses it: Are they picking up boxes and pouring jugs into a mixing vat? Are you storing the case on a shelf and dispensing using a spigot attachment? If you switch to drums, the way that they access the oil will change.
Packaging accessories: Do you need a spigot for your 35 lb. Container, or will you use a drum pump for your 55 gallon drum? What kind of pump would you want? (Here's our favorite drum pump that we recommend.)
The Type Of Supplier You Buy From Also Affects Prices
This entire packaging conversation is skewed by the fact that many different levels of suppliers (think of the supply hierarchy) can sell the same kind of packaging. A manufacturer that packages edible oils is going to have lower prices than a distributor or re-seller would. Costco or food service suppliers may have distribution systems in place that help reduce costs, and could have prices close to the manufacturers.
So, for practical comparison's sake, we've compared apples to apples above, by looking only at the savings of switching from 35 lb. containers to drums without switching suppliers.
This makes it easier for you to decide about your packaging first and then look at at which type of supplier you'll buy from as a separate discussion.
If you want help with deciding which type of supplier is a good fit for your business, we suggest this article, Where Is The Best Place To Buy Olive Oil In Bulk?
Is The Potential Savings Worth Making The Switch?
The more important question is not how much will you save, but is the savings above worthwhile for your business to make the packaging switch?
In my opinion, it's better to look at not just the savings you'll see, but also the ease of use you'll get by switching to drums.
If 55 gallon drums are going to be more challenging for your team to use, it's probably not worth making the switch.
What's important to you when choose your bulk ingredient packaging? Tell us in the comments below.
Topics: Packaging, Prices & Saving Money