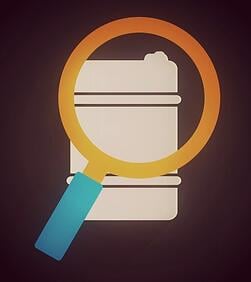 If you're on the search for olive oil in bulk, you may be coming up against the large confusing mass of directions for where to buy... Otherwise... known as Google.
The best way to answer the question of where to buy bulk olive oil is to define what industry your business is in and find a supplier that matches with that.
If we were sitting at a coffee shop, friend to friend, I would first ask you what you did and then I'd be able to point you to the right type of supply company.
So, I will try to do just that. I have my coffee-- pull up a chair.
If you're a soap maker
If you're a soap maker, it's actually best to buy all of your ingredients from a soap making supplier. You can buy a few cases and have them shipped to you via UPS. Or, if you buy more than that, your best bet is to combine a few items on a pallet and have it shipped with a freight carrier.
That is, unless you're buying full pallets (4 drums) of each of your different ingredients, in which case it's best to work with a food or body care manufacturer, below.
Brambleberry Soapmaking Supplies: Perfect for orders of a few cases or if you need lots of the fun ccessories for artistic soap making. Located in Bellingham, WA.
Bulk Apothecary: Similar to Brambleberry, but located in Streetsboro, OH. Best for east coast shipments.
Shay and Company: Great soap making ingredient supplier who's been in the industry a long time and is very knowledgeable. Ideal for shipments of a few cases or pallet orders with a mix of items. This supplier is best fit for soap makers west of the Mississippi. Located in Portland, OR.
Or you can look at this Where To Buy list from the Handcrafted Soap & Cosmetics Guild for other ideas of where to buy.
If you own a small business at home and you need a few cases
Ideally, you should be buying from some sort of wholesale store or local distributor. There are also a few online options that might work for you.
Azure Standard: A wholesale retailer that sells a variety of wholesale organic products. They sell cases and mixed pallet deliveries throughout the mid-west and west.
Centra Foods Online Wholesale Store: An online store where you can buy 1-10 cases of oil in bulk at one time.
Food Service Company: If you are a restaurant or if you buy a number of different food ingredients, you might qualify to be a customer of a food service company. Local companies may have lower minimum orders than a large supplier like Sysco, so contact some of your local options first.
A Local Distributor In Your industry: Specific industries often have distributors with regional distribution centers. For example, if you're in the baking industry, Dawn Foods has many locations around the country and they can help you with all of your industry-specific ingredients.
If you're trying to grow a new specialty food brand
If you're starting a new specialty food brand, check out the Fancy Food Show or the Natural Products Expo West. This is going to give you a lot of new industry contacts including potential suppliers.
You're in a unique situation because you have to find a supplier that will take care of you now (when you're buying just a few cases) and plan for the future to find a good supplier when you need oil in drums or by the pallet. This is one of those situations where it may be best to to start by buying locally from Costco and build up to a larger supplier.
If you find that you can't buy locally from a wholesale supplier because you need a COA, we have a good suggestion. You can order a case of olive oil online on our online wholesale store and email us to get a copy of the COA for the lot that you receive. As you get larger, you can switch to pallet purchases.
To be able to decide when and how to make this transition from wholesale to bulk buying, we'd suggest starting by reading the Small Business Guide To Buying Olive Oil. Or you can watch this video:
If you're selling gourmet olive oils (and maybe vinegars too) in a retail store
If you're opening a retail olive oil and vinegar store in your town, you need to be fully aware of your business needs before you begin searching, because they're very unique. You're going to need just a few gallons of 30-40 different types of Oragnic and Extra Virgin Olive Oils. They will all need to be Extra Virgin (either Organic or regular), and they will all need to be unique. You may want some flavored or infused oils as well, and you will be probably looking for vinegars and a few other natural/specialty oils to boot.
Veronica Foods is the primary supplier in the US for this industry. Some retail stores struggle because they do require a contract stating that you won't work with any other suppliers. It's also very expensive to ship product to the east coast, but there aren't a whole lot of other suppliers that specifically fulfill this niche.
If you sell olive oil in a market or bulk section of a grocery store
In this situation, you're looking for 5-20 gallons of 2-6 different types of oils. Because of this you fall right on the edge of many different industries. If you can buy a few drums, you would be best off buying from a food manufacturing supplier. If you want a few different types of oil and can push your volumes up to a pallet, a gourmet retail store supplier would be a good option.
Lastly, you can also buy a number of different types of oil by the case from your food service supplier. Comparatively, the cost may be a bit more for each item, but when you factor in the order minimums and shipping that you'd have to pay with another supplier, it may even out.
If you're buying for your home
If you use a lot of olive oil in your household, here's where we recommend that you buy from:
Your local grocery store in 3 Liter containers
If you're a food or body care manufacturer
If you are a manufacturer, it's important that you work with a supplier who is made to serve your industry.
You need things like quality documentation, certifications, COAs and easy to use bulk packaging. In addition, you function by placing POs, working on credit terms, and planning inventory weeks into the future for a scheduled delivery date. The way that your business functions is unique, so you need a supplier that conforms to that.
That said, there are only a few bulk oil ingredient suppliers in the US and they all work on a national scale (including Centra Foods). You can expect that your oil will probably be shipping across at least a few states to get to you-- that is industry standard unless you're located in a large manufacturing town like Chicago or Los Angeles.
Suppliers will have minimum order of at least one pallet, and will be able to offer you lower pricing than any of the other above supply options.
If you're a manufacturer and want to get a price quote on the bulk oils that you use, request it here.
To decide if you should really be working with a manufacturing supplier, download the Manufacturer's Buyer's Guide, The Ultimate Guide To Buying Bulk Olive Oil For Manufacturing.
Topics: Food Manufacturing, Suppliers, Small Businesses Advice