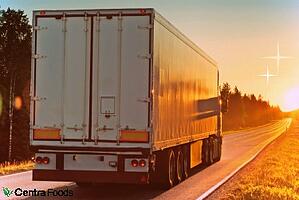 Are you trying to decide if working with a freight carrier is worth it? Let's take a look at some different things that may or may not occur when shipping bulk items like bulk olive oil or bulk non-GMO canola oil.
For bulk shipments packed on pallets, your order will deliver on a freight truck. If you're not used to working with a freight carrier it will take some some time to get familiar with the process.
Below we have listed a few things we feel you should know.
If A Bulk Supplier Is Coordinating Your Shipping
Having the supplier coordinate the shipping is usually the cheapest option you will see. Bulk suppliers ship many loads everyday and get price breaks from freight carriers that they can pass on to their customers.
The cost will be listed on your invoice, based on the amount of product you are ordering as well as where it is shipping to.
If you are under a contract, you may have a "delivered price" which means the cost of shipping has been built into your item already.
Once your order has left the facility you will receive a tracking number to allow you to follow your shipment while it is on the road.
Keep in mind that delivery is typically going to be cheaper if a freight truck delivers to a standard warehouse location. Any extras such as a lift gate, delivery appointment, ranch/rural delivery, or residential delivery will come with an extra cost.
If You're Handling Your Own Shipping
Pick-ups are typically available at any supplier's facility, which means that you can choose to work with your own freight carrier if you want. This means that you will coordinate the pick-up with the carrier, including the shipment details (class, pallet weight and size). You will also make a Bill of Lading (or get one from the freight company) and share it with your supplier.
You will have the shipping invoice sent directly to your company.
Perhaps you live nearby and have a flatbed truck or trailer. If so, you can see if your supplier allows for pickups with your own truck. If you go this route, you must have a vehicle that allows your supplier to load it with a forklift. Ask your supplier if this is something they offer, and then schedule a pick-up appointment with their shipping department as well as have a Bill Of Lading sent to them.