People are caring more and more about what they're putting in their bodies. They're looking at ingredient labels, rejoicing over non-GMO foods, and asking for more information all them time, about where their food is coming from.
Consumers want to be connected to what they're eating.
This was shown in the hilariously ironic Portlandia clip, where a couple eating at a restaurant go to far lengths to understand where their chicken is from and how it was raised.
So now, more than ever, how your bulk ingredients are made matters. It matters to the people that you care about-- your target market, the people that are going to buy your product. This includes the bulk oil ingredients that you use.
And it's not just about what they're from made from-- it's also about how they're produced. Was there chemicals involved? Was the oil refined? Was it a naturally produced oil, fresh squeezed with a poetic romantic tale?
Either way, your customers want to know, and down the line, your ingredient can choices affect your sales.
It's Important To Know How Your Oil Is Produced (For The Sake Of Your Future Sales)
It's not always clear how an oil is made or what it's made from. It takes a bit of industry insight to get a full understanding of what exactly an oil comes from, the method that it's produced in and if it's refined in the process.
These are all things that, if you're selling to a discerning natural foods target market, your customers will want to know. For example, perhaps they're stayed away from all refined foods, or they don't want any food that's been produced using chemicals.
You'll need to make a strategic decision about your ingredients now, with growth and planning in mind. That way, down the road as you continue to grow, not only will your customers like your products, they'll believe in them so strongly that they'll want to share and promote them.

"... Not only will your customers like your products, they'll believe in them so strongly that they'll want to share and promote them."
When that begins to happen, your business booms. So choose wisely!
Comparing The Production Method of Different Bulk Cooking Oil Ingredients
To make your necessary strategic ingredient decisions, here's in the industry inside look on how each oil is produced. Compare away!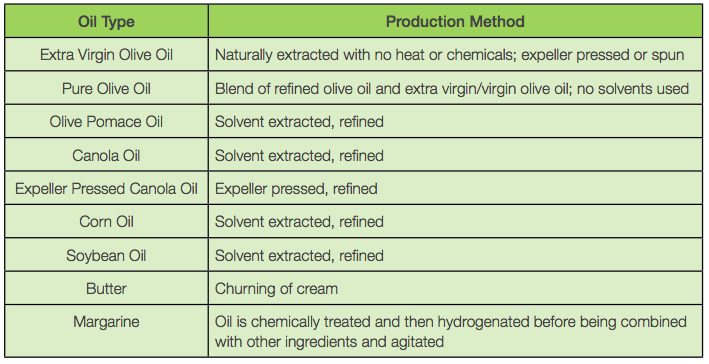 The other part of this is understanding which oils are naturally non-GMO, which ones are not, and then making your decision about whether your ingredients will be non-GMO or not accordingly.
Want to know more about how an oil is produced? Ask for a production flow chart for the oils that you're interested in, and you'll get all the details.
Topics: Comparing Oils, Olive Oil