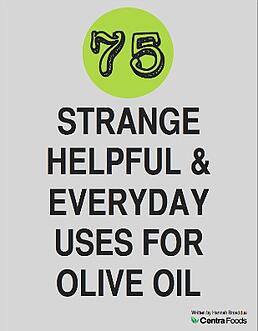 Download the FREE Tip Sheet
Download the tip sheet, 75 Strange, Helpful & Everyday Uses For Olive Oil. This list gives you lots of interesting ideas for ways to use olive oil you never may have thought of.
Use olive oil as a natural alternative to many beauty & skin products
Learn to tame and condition your hair
See how you can use olive oil to maintain many different types tools and gear
And see you can use it around your home
To download, fill out the information boxes to the right and click Download 75 Helpful Uses.