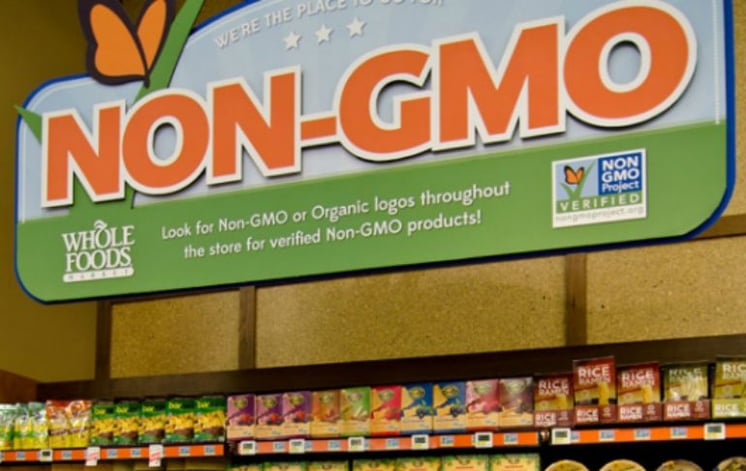 Today, we are going to review some of the trends in the natural food industry over the last few years.
There's a lot of data surrounding the natural food industry showing how it's growing. As food manufacturers, however, you'll want to know which product claims are growing and declining and why — so that you can make educated decisions about your future product lines and how they will be marketed.
We are going to review some statistics based off of the product claims that are being used on packaging — and how the use of those product claims have changed over time. We'll also review how natural grocery stores are growing and more importantly, why.
Non-GMO Growth Now Outpacing Organic Growth
There are now more new products being added to store shelves with the non-GMO claim than the organic claim. Part of the reason as to why is because this non-GMO trend picked up much later than the organic trend — but it's also growing at a much faster pace.
In 2013, 10% of new products had the organic claim, while only 6.5% of new products had the non-GMO claim. By 2015, the non-GMO claim on new products had grown to 15.7% new product growth, while organic claims had only grown by 13.5%.
In fact, this non-GMO trend picked up so fast that in 2015 it saw a 50% growth as compared to 2014, just one year before.
Here are the growth statistics on both the non-GMO and organic claims on new products over the last few years. These all come from the From Organic & Non-GMO Report.
Non-GMO Growth Trends
(based on product claims found on new food)
2012: 2.8%
2013: 6.5%
2014: 10.2%
2015: 15.7%
Organic Growth Trends
(based on product claims found on new food)

2013: 10%
2014: 10.7%
2015: 13.5%


Clean Label Trends Are Also Growing
Clean label trends have picked up. In 2015, 20.2% of new products made claims of "no additives or preservatives", which was a 2% increase from 2014.
Clean label popularity has also shot up since the 2015 data was released, as shown on this trend chart from Google Trends, which reflects a definite increase in the last few months in 2016.

"Natural" Vocabulary Decreases
Of all of the natural food industry trends, most product claims are on the rise. Except for one word: natural (ironically).
New products making "natural" claims decreased to 11% in 2015, which is down from 12.6% in 2014 and 13.8% in 2013.
This word is steadily being used less and less on packaging as consumers are eyeing it with skepticism. Why? Because consumers know that the word "natural" is vague at best and there are no regulations around what it means to say that a product is natural. On the other hand, Non-GMO Project Verified and USDA Organic claims are highly regulated with well documented supply chains.
However, this "natural" term continues to be used in food industry discussions, because there doesn't seem to be a better all-encompassing term to discuss the whole foods/non-gmo/organic/clean label/healthy food industry.
Natural Grocery Stores Sales Increase
Grocery stores in the natural sector have also increased, according to SPINS data. Over the last three years (from 2012-2015) there has been a 22% growth in store count, and a 40% growth in the sales volumes in these stores.
These numbers are based on supermarkets (be they co-ops, independent retailers, or large regional chains) selling $2M or more in annual sales. To be included in the data above, at least 50% of sales have to be from natural or organic products.
Who Is Influencing These Natural Trends?
It's clear that both demand for natural and organic products are increasing, and natural grocery stores are growing as a result. The better question is WHY.
Or better put, who's influencing this change?
Millennials is the answer, SPINS data shows. 49% of Millennials and Gen Y (ages 18-38) said products with "free from" claims are worth paying more for. This was found more with millennials and gen-Yers than with any other age group.
As the millennials continue to become key household buyers, this trend will be expected to continue to increase.
Topics: Organic, Industry Trends, Non-GMO