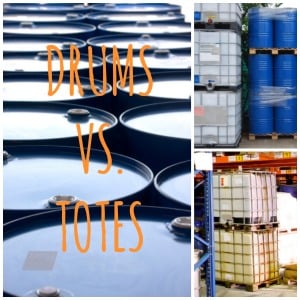 What type of packaging is best for your manufacturing facility?
Let's take a look at some of the two most popular bulk packaging options to discuss the pros and cons of each.
Drums and totes are the two most commonly used bulk packaging sizes. Each has it's own advantages and disadvantages. One may also be easier to use, depending on the set-up at your facility.
With all this being said, let's dive right into look at drums vs. totes. These are the most common pack sizes for olive oil (and other natural oils) used in food and body care manufacturing. Don't forget -- work with your operations team to learn about your warehouse/production restrictions and goals before finalizing your packaging size.
Tote Pros and Cons:
Pros:
Totes are a large box packaging (about 4'x3'x4'H)
There are two types of totes: a hard Plastic IBC Tote (which stands for intermediate bulk container) which as an aluminum frame or a Cardboard BIB (Bag in a Box) Tote
Totes can come in many sizes, but usually are 264-275 gallons (2000-2200 lbs)
The pallet size (in terms of floor space dimensions) is about the same as 4 drums


Totes are typically cheaper than drums because they have less packaging.
Tote dispensing pumps are available
Cons:
Must have a forklift to move around


You'll need to have a pumping system to drain the oil out of the tote using gravity, or a pump to suck the oil out automatically.
Drums Pros and Cons:
Pros:
55 gallon drums can be easier to move around your facility, as they can be separated and moved individually
You can dispense from them using a reusable drum pump
Each drum weighs about 500 lbs, so you can't move them by hand -- however, you may be able to move them with a fork lift or a pallet jack. They are still more manageable to move than the totes.


Cons:
Slightly higher cost than totes (more packaging)
You get less oil on a pallet (220 gallons vs. 275) so the freight cost can be a little higher per lb.
They are smaller so you may need to order more often as you're getting less oil with each pallet.
These are all just a few of pros and cons for each packaging. The best thing to do before deciding would be to do some research online and talk to your warehouse/production team about what they feel the best option would be for you. Make sure to show them the drum and tote pump options, so that you can get a good picture on how you would dispense from them in your facility.
We would love to answer and of your questions or concerns you may have. Just contact us at (800) 689-7510 x1.
Topics: Packaging