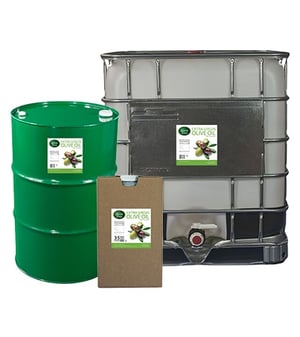 There are lots of different ways you can dispense oil from bulk packaging. Most options will require some sort of dispensing system. As you are comparing bulk packaging options, it's always helpful to understand how you well get your oil out once it is in your facility.
In this article, you will find out how to dispense from the three most common bulk oil packaging options (35 Lb. Containers, Drums and Totes) whether you are pumping into smaller bottles or if the oil is being used as a batch in your food manufacturing.
These different options are all machine-free, low-cost, easy to use, and take up practically no facility space.
How To Use 35 Lb. Container Spigot
Let's start by looking at the 35 Lb. Containers and the dispensing system used with this packaging called a spigot kit.
When you receive the spigot kit, it will come in a small bag with two parts. Remove both parts from the bag, and screw the spigot onto the lid that will eventually attach to your 35 Lb. Container. Be aware though, that on that lid there is a "knock out" section (essentially a plastic film to cover the hole that the spigot will screw into). This can either be cut out or popped out using a hammer.
Unscrew the lid that came with your 35 Lb. Container and remove the foil seal. Screw the spigot attachment onto the unit in place of the original lid. Lay your 35 Lb. Container on it's side, grab the appropriate packaging that you are filling into and begin to pour your desired amount by turning the valve.
Want to learn more about how it works or see it please read the following article with more details.
How To Dispense Oil From A 35 Lb. Container Using A Spigot
To see exactly how to attach the spigot to the 35 Lb. Container, watch the video below
How To Gravity Drain From A Tote
If you have opted to buy the largest packaging size — a tote — you can use a gravity drain dispensing system.
Please note: to properly use this dispensing system, you will need to make sure you have the tote elevated from the ground. Having the tote located higher than where it is dispensed from is what makes it a "gravity draining system" — it uses the force of gravity to push the oil out of the end of the hose. To elevate it, you can either stack the tote up on a few pallets or use a fork lift to lift it up temporarily, or you can store it on tall racking (a more permanent solution).
First, you will also want to make sure that the vent cap on the top of your tote has been removed. This will allow the air to flow into your tote and prevent it from collapsing as you dispense the oil.
Next, you will remove the dust cap from your tote valve, and connect the 2" camlock. Lock the arms of the camlock down, and replace the safety clip around the arms to make sure no accidents happen.
Once that has been attached, make sure that the ball valve at the far end of the hose (where the oil comes out of) is in the "off" position before opening the valve and allowing oil to flow. Once that is closed, go ahead and turn the yellow handle or knob on your tote valve to start the flow of oil. You will see oil fill the hose you can then grab your appropriate packaging and begin filling by turning the ball valve at the hose's end to the "on" position.
To find out more or see this dispensing system in action please visit out blog on How To Dispense Oil From A Tote Using A Gravity Drain System.
You can also watch the following video to learn more:
How To Use A Drum Pump
Our final option we have is dispensing oil from our 55 gallon drums. Whether you buy steel or plastic drums, this drum pump will work for both.
Just like the other dispensing systems, this pump is very easy to use as well. Using this drum pump takes 5 simple steps.
Step 1: Remove the 2" bung at the top of the drum. You may need a drum wrench to remove depending on how tight it is.
Step 2: Place the bung in a tray to keep it clean and sanitized while pumping oil.
Step 3: Place the drum pump into drum until you hear it/feel it touch bottom.
Step 4: Squeeze the safety latch on the handle and push it forward or backwards to release it.
Step 5: Now just grab the appropriate packaging and begin to pump the oil out, by moving the pump handle up and down.
Still feel like you need a little more information? You can learn more by reading How To Dispense Oil From A Drum Using A Drum Pump.
To see the drum pump in action, you can also watch the video below:
In Conclusion
There you have it! Now you should know more about the three most popular bulk packaging options and how to dispense oil from each of them. Hopefully you have found this article helpful as you are comparing and choosing packaging options, or learned something you may not have known.
Topics: Food Manufacturing, Packaging, Purchasing & Procurement, Food Service