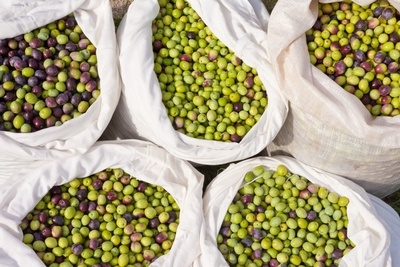 Looking for an an expeller pressed olive oil? We get this question every once in a while, and I thought it would be worth answering today. While this may seem like it deserves a simple answer, this question can throw some oil industry professionals off because it is the combination of two terms that are not usually used together.
If you're struggling to find an expeller pressed olive oil, it may be because you're using terms that aren't synonymous with what you're looking for.
The Difference In Oil Industry Terms
Part of the confusion comes in the cross-over of terms that usually apply to two different industries. Olive oils are typically called "first cold pressed" or they are spun in a centrifuge (what I like to refer to as "first cold spin"!). Vegetable oils like sunflower, canola, safflower, etc. are usually called "expeller pressed" (if they are in fact expeller pressed instead of the industry standard of solvent expelled).
Each of these terms refers to how the oil is removed from the seed or the fruit. Usually though, olive oil isn't referred to as "expeller pressed" just like vegetable oils aren't referred to as "first press". This is because of the difference in how they are each made.
Before we explain these terms more, we are going to address how each oil is produced. When we return to the terms at the end, they will make a lot more sense.
How Is Olive Oil Made?
How is olive oil made? Well, it depends on which grade of olive oil you are asking about. We will give you a brief rundown on each one.
Extra Virgin Olive Oil
To make Extra Virgin Olive Oil, first the olives are harvested and washed with cold water. They are ground into paste and spun in a centrifuge to extract this initial, high-quality oil.
By definition, EVOO is known as the "first, cold-press", though it's actually spun instead of pressed in modern systems. Typically, this process occurs within 24 hours of picking the olives from the trees.
Virgin Olive Oil
Virgin Olive Oil is processed in a similar way to Extra Virgin Olive Oil. The thing that differentiates Virgin and Extra Virgin is the acidity level after pressing: Virgin Olive Oil has a max acidity level of 2.0% while Extra Virgin Olive Oil must be below 0.08%. The difference in acidity level is caused by the olives themselves and the time delay between harvest and production.
Refined Olive Oil
Refined Olive Oil is Virgin Olive Oil that has been processed and refined create a mild, light tasting, and more stable oil. The refining process also removes many of the health benefits that Extra Virgin Olive Oil offers.
Olive Oil (Pure Olive Oil)
Defined by the USDA, the grade 'Olive Oil' is commonly referred to as 'Pure Olive Oil' or 'Pure' in the U.S. bulk and retail markets. In fact, this grade is comprised of Refined Olive Oil blended with Extra Virgin or Virgin Olive Oil. This oil has a milder taste and color than Extra Virgin or Virgin Olive Oil.
Olive Pomace Oil
Olive Pomace Oil is oil that is extracted from the pomace of the olive. "Pomace" is pulp made from the olive pit and already-squeezed olive fruit (after making the above grades). A solvent — typically hexane — is added to the pomace to extract any remaining oil.


What Is Expeller Pressing?
Seed oils are expeller pressed differently from how the olive oils are made above.
Expeller pressing uses a press to physically squeeze the oil out of the seed, rather than use chemicals. With this method, no solvents are used in the process; this is in opposition to the industry standard of solvent extraction of seed oils.
An expeller press is a screw-type machine which presses oil through a caged barrel-like-cavity, using friction and continuous pressure. The screw drives forward to literally squeeze the oil from the compressed seeds. There isn't any added heat in this process, but the pressure and friction involved in the pressing process creased heat from the unit in the range of 140-210˚ F. (So technically, this process is not "cold pressed", even though no additional heat is added to the process before refining.)
After the oil is removed, the remaining seed solids are left over form a hardened cake, which is removed and later sold as meal for animal feed. Expeller pressing gets 87-95% of the oil out of the seed, so there is some oil still left over after pressing.
How Is Each Method Different?
Technically, they are very similar — expeller pressed vegetable oils and most of the olive oil grands (sans pomace) are both produced without the use of solvents, and they use physical squeezing or spinning to get the oil out.
Expeller pressed oil can be refined afterwards as well; this process entails heat and means that the oil will not be "cold pressed" in it's final form. It's important to decide if you are looking for a cold pressed or just an expeller pressed olive oil.
Here's a quick reference list, to help clarify:
Cold Produced & Expeller Pressed Oils
Organic Extra Virgin Olive Oil
Non-GMO Cold Pressed Canola Oil (a special order item for Centra Foods)
Expeller Pressed Oils
These oils are expeller pressed but will often be refined using heat (and therefore not cold pressed).
Canola Oil, Non-GMO Expeller Pressed
Canola Oil, High Oleic Non-GMO Expeller Pressed
Organic Canola Oil, Expeller Pressed
Sunflower Oil, High Oleic Expeller Pressed
Organic Sunflower Oil, High Oleic Expeller Pressed
Safflower Oil, High Oleic Expeller Pressed
Non-GMO Soybean Oil, Expeller Pressed
Organic Soybean Oil, Expeller Pressed
Topics: Olive Oil