Oh, the places you'll go, non-GMO...
The Non-GMO movement is a hot topic right now. In fact, "GMO-free" is now the fastest growing store brand claim¹.
Whether you're a producer, consumer or a manufacturer, everyone is discussing the importance of Non-GMO and how the new movement is affecting their work and their lives. For manufacturers and distributors in the natural foods sector, it's especially important to understand the following:
What Non-GMO means
The difference between Non-GMO and Non-GMO Project™ Verified
What your distributor/buyer requires
What you need from your raw ingredient suppliers
Alright, let's dive in!
What does GMO mean?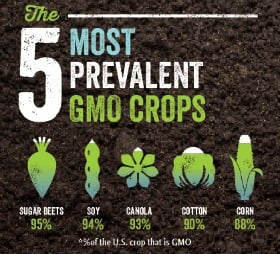 The term GMO stands for Genetically Modified Organism. A genetically modified organism is a crop that has been genetically changed to help it grow more successfully (which involves splicing of genes from two different species). This is a practice that has become the norm in the US and Canadian farming communities. These genetic adaptations help the crops stand up to Roundup, an herbicide which helps them grow successfully and resist disease and bugs. The most common crops that are genetically modified are corn, soybeans, canola, cotton, sugarbeets and alfalfa.

When genetic modification first gained popularity, the goal was for farmers to increase their crop yields and reduce the amount of pesticides that they had to use on their fields. However, now the primary concern is the long-term affect that these genetic modifications will have on our bodies, our children's bodies, and even possible environmental repercussions. To read more about some of the concerns that exist surrounding GMOs, we suggest that you read this article.
What is the Non-GMO movement?
As a result of many of these health concerns, consumers are demanding foods that are free of genetic modification. In turn, food manufacturers are responding by changing their ingredients to the non-GMO versions and creating new products that respond to the high demand for non-GMO foods.
These Non-GMO products are selling fast. In fact, last year, the Nielsen Company reported that GMO-free is now the fastest growing store brand claim.

Consumers are also calling for GMO transparent labeling to be required by the FDA. With laws like these put into place, it would require all products to be labeled when they contain a GMO ingredient, rather than when they do not. In fact, this bill was recently passed in Connecticut and Maine, and is on the docket of 30 other legislatures. To learn more, click here.

Grocery chains are also starting to get on board. Recently, Whole Foods announced that by 2018, all of their products that contain GMOs would be labeled as such (see this article for more information). This makes them the first national grocery chain to set a deadline for GMO transparency.
How is it different when a product is Non-GMO Project™ Verified?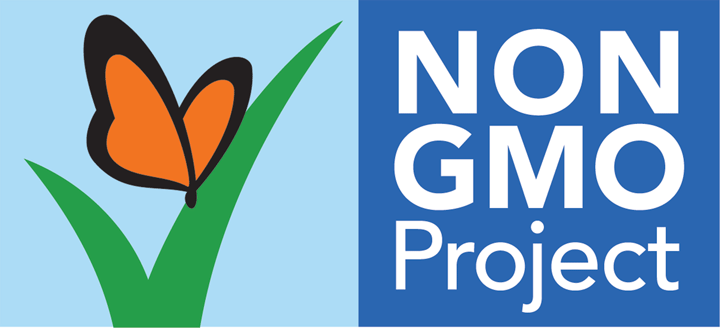 The Non-GMO Project™ is an organization that's developed to help ensure the accountability of the Non-GMO claim. They work with suppliers and producers of raw ingredients, along with the actual food manufacturers doing facility inspections, and creating a documented paper trail. Their goal to demonstrate that a product has used industry best-practices for GMO avoidance. This document trail from producer to supplier to manufacturer offers an extra level of assurance to consumers.
Until recently, manufacturers that have claimed their products to be "non-GMO" have only been able to get a promise statement from their supplier stating that the particular raw ingredient is in fact grown without the use of GMOs. Manufacturers have had to depend on the responsibility and good will of their suppliers/producers to back up this statement with action.

The Non-GMO Project™ verification process is similar to the organic movement in the 1980's and 90's. As organic products gained popularity, products went to being "grown organically" to being "certified organic". The difference is in the documentation process involved. Instead of simply being a producer promise, certification involves third party audits of facilities and crops with documentation for every step in the supply chain.

Like organic certification process, this extra step of documentation increases the cost of producing a product. Because of this, Non-GMO Project™ Verified products often come at a premium price.

Consumers already trust this Non-GMO Project™ Verification. According to recent SPINS data, the Non-GMO Project™ Verified seal is one of the fastest growing seals in the natural products industry, at a rate of more than 15% last year.
How does the Non-GMO movement affect the bulk olive oil you use?
Concerned consumers have increased the demand for these Non-GMO products, which has in turn, created an increase in demand in raw ingredients that are Non-GMO. One of these raw ingredients is, of course, bulk olive oil.

Because much of Centra Foods' olive oil is imported from the Mediterranean, it is already Non-GMO. Europe has much stricter guidelines with GMOs (they already require transparent labeling), so you can typically rely on products grown there to be non-GMO.
How does the Non-GMO movement affect other bulk oils like Soybean, Canola and Safflower Oil?
Soybean, Canola and Safflower Oil are all oils that are produced here in the US. As a seed crop in North America, genetic modification has become the norm for these oils.
If you need a non-GMO oil, it's important to source the Non-GMO version, made with seeds that have been grown without the use of genetic modification. The Canola plant used for these oils has been hybridized using open polination (traditional hybridization methods as opposed to genetic engineering). These Non-GMO oils, of course, do come at a premium.
How does Centra Foods participate in the Non-GMO movement?
Centra Foods supplies bulk olive oils that are Non-GMO. We also carry Non-GMO Expeller Pressed Canola Oil and Non-GMO Expeller Pressed Safflower Oil.
We plan to get our products Non-GMO Project Verified™ in the very near future. However, we already carry a Non-GMO Expeller Pressed Canola Oil in tankers that is a Non-GMO Project Verified™ oil. Contact us if you'd like a price quote.
Want to learn more about non-GMO oils?
Glad to hear it. Check out these articles below:

Source: ¹ The Nielsen Company
Topics: Canola Oil, Non-GMO