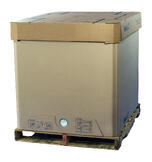 A type of tote packaging used for olive oil, available in a variety of different sizes. This tote is comprised of an inner plastic bag (which is approved for use with edible oils), and a strong outer carboard box. This box has an attachable spigot at the bottom, which is used to dispense the oil. This packaging has the following advantages over it's conventional tote counterpart:
The inner bag keeps oxygen away from the oil as it is used, extending the shelf life and product freshness.
The outer box can be broken down and recycled after use, allowing for fast, cheap and environmentally-friendly disposal.